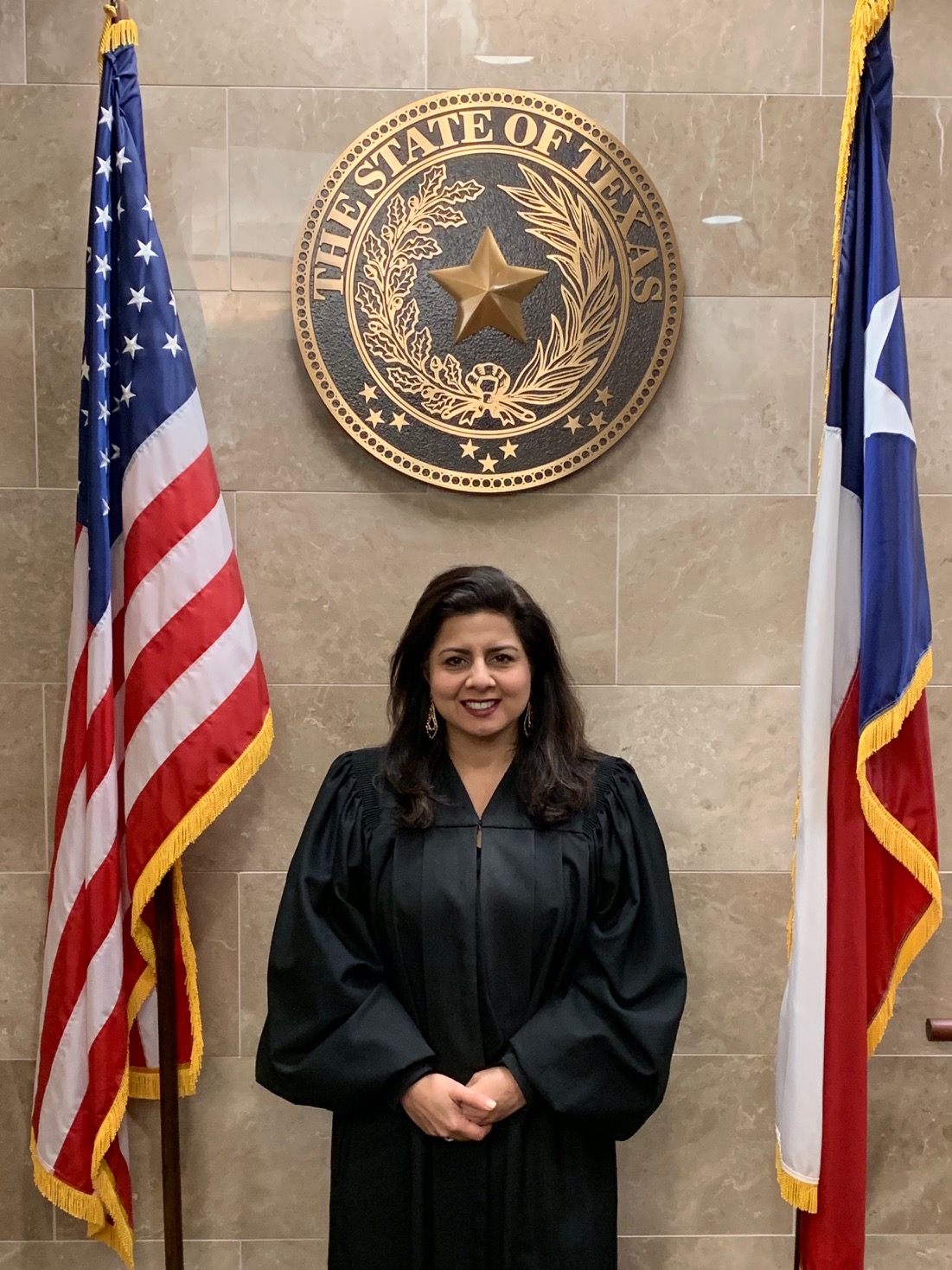 Honorable Stuti Trehan Patel, District Court Associate Judge
Judge Stuti Trehan Patel is the Associate Judge for the 240th Judicial District Court in Fort Bend County, Texas.  Judge Patel earned her Bachelor of Social Work degree with Honors from The University of Texas at Austin, and her Doctor of Jurisprudence from The University of Houston Law Center.  She is also certified as a civil and family law mediator, and a member of the Texas Bar College.  For the majority of her career as an attorney, she served Fort Bend County as a prosecutor for the Fort Bend County District Attorney's Office.  Judge Patel, along with her husband and children, are active in the local community and support many organizations that work with families, such as Lunches of Love, Boy and Girl Scouts of America, Hope Endowment, Child Advocates of Fort Bend, Daya, Fort Bend Women's Center, local food banks and Fort Bend Partnership for Youth.  
Associate Judge Court Coordinator: 
Language Access | Important Notices
Notice of Language Assistance Services
FORT BEND COUNTY COURTS AT LAW AND DISTRICT COURTS ARE COMMITTED TO PROVIDING MEANINGFUL ACCESS TO COURT SERVICES FOR LIMITED ENGLISH PROFICIENT (LEP) PERSONS. LANGUAGE ASSISTANCE SERVICES ARE AVAILABLE AT NO COST TO ANY PERSON ASSOCIATED WITH A COURT PROCEEDING WHO HAS DIFFICULTY COMMUNICATING IN THE ENGLISH LANGUAGE OR WHO NEEDS A DOCUMENT TRANSLATED INTO ENGLISH.
IF YOU NEED ASSISTANCE IN A LANGUAGE OTHER THAN ENGLISH, YOU MAY REQUEST LANGUAGE ASSISTANCE SERVICES FREE OF CHARGE. TO REQUEST INTERPERETATION OR TRANSLATION SERVICED FOR THE FORT BEND COUNTY COURTS, PLEASE VISIT THE
LANGUAGE ACCESS
WEBPAGE.