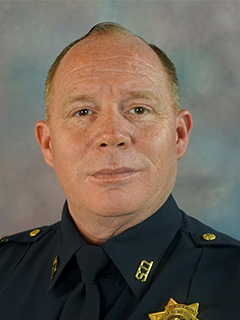 Captain David Clary
Captain Clary began his career with the Fort Bend County Sheriff's Office in 1995 as a Correctional Officer before graduating the University of Houston Basic Police Academy in 1996.
Prior to beginning his law enforcement career, Captain Clary served four (4) years in the United States Marine Corps with combat tours in Operation Desert Storm in Saudi Arabia and Operation Restore Hope in Somalia.
Captain Clary has served in numerous assignments while at the Fort Bend County Sheriff's Office, to include; Correctional Officer, Detention Deputy, Patrol Deputy, Dive Team, and Field Training Officer, before promoting to Sergeant in 2010 and assigned to the Patrol Division.
In 2015 Captain Clary promoted to Lieutenant and continued to serve in numerous assignments to include; Detention Night Watch Commander, Crime Scene Unit Supervisor, Records, Alarms, & Gaming Units, Patrol Night Watch Commander, and Criminal Investigations Supervisor to include the Misdemeanor, Fraud, Auto Theft, Special Crimes, and Warrants Units . Captain Clary also served as the law enforcement coordinator to the Fort Bend County Crime Stoppers and is currently a committee member for the Houston Area 100 Club.
Captain Clary is certified as a Fielding Training Officer, Instructor, Public Safety Diver, and Jail Administrator and holds both a Master Police Officer and Master Jailer's License.  
In 2018, while assigned as the Property & Evidence Room Unit Supervisor, then Lieutenant Clary was instrumental in the Sheriff's Office receiving the "County Best Practices Award" from the Texas Association of Counties.     
Captain Clary can be reached by email at David.Clary@fortbendcountytx.gov.
Dial 9-1-1 for emergencies only
Non-emergencies 281-341-4665
To report a crime tip 281-341-4686 281-342-TIPS(8477)