Recycling Center | Important Notices
Residential Use Only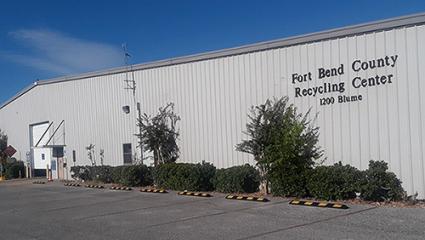 Mission Statement
The Fort Bend County Recycle Center provides a regional center for general and HHW recycling for Fort Bend County residents.  We are committed to protecting the environment by promoting recycling, reducing and reusing in order to ensure a safe and healthy community for current and future generations by keeping items out of landfills.   We are dedicated to the communication, education and interaction of the public.
Address
1200 Blume Road
Rosenberg, Texas 77471
Hours
Monday:

8:00 AM – 4:00 PM

Tuesday:

8:00 AM – 4:00 PM

Thursday-Saturday:

8:00 AM – 4:00 PM
Closed Wednesdays and Holidays (see below)
Effective January 1, 2022 The Fort Bend County Recycle Center will be closed at 4:00 pm on Mondays.
Recycling is closed on the following days and/or weekends during holidays
New Year's Day
January 2, 2023
Birthday of Dr. Martin Luther King, Jr.
January 16, 2023
Good Friday
April 7-8, 2023
Memorial Day
May 27-29, 2023
Juneteenth (Observed)
June 19, 2023
Independence Day
July 4, 2023
Labor Day
September 2-4, 2023
Fort Bend County Fair Day
September 29-30, 2023
Veterans Day
November 10-11, 2023
Thanksgiving
November 23-25, 2023
Christmas
December 22-25, 2023
Purpose
The Fort Bend County Recycle Center helps protect the environment and preserve resources by empowering Fort Bend County residents to reduce, reuse and recycle.
Core Values – We C.A.R.E.
Committed to protecting the environment
Aim for continuous improvement
Responsive and friendly staff
Effective and efficient services
We have returned to our regular schedule and will accept all materials as before EXCEPT FOR 3-7 PLASTICS AND STYROFOAM.
For directions to the Recycling Center, please click the Directions link in the map below.