BHS Highlights
JUNE IS ELDER ABUSE AWARENESS MONTH
elder-abuse-june.png
Image

June is Elder Abuse Awareness Month and all month Adult Protective Services (APS) is working with community partners and professional groups around the state to raise awareness about adult abuse, neglect, and financial exploitation. World Elder Abuse Awareness Day (WEAAD) was launched on June 15, 2006 by the International Network for the Prevention of Elder Abuse and the World Health Organization at the United Nations. 
The purpose of WEAAD is to provide an opportunity for communities around the world to promote a better 
understanding of abuse and neglect of older persons by raising awareness of the cultural, social, economic and demographic processes affecting elder abuse and neglect.
Help spread the word about elder abuse awareness month using our social media toolkit.

GUIDE TO REPORTING SUSPECTED ABUSE, NEGLECT, OR FINANCIAL EXPLOITATION OF ADULTS 
Anyone in Texas can file a report in good faith if they suspect an adult with disabilities or who is aged 65 or older is being abused, neglected, or financially exploited. This guide explains how to identify and report these situations. 
Sometimes, it can be hard to identify abuse because the adult may not be able to tell you what happened or may be an unreliable witness. For example, your father has memory problems and you notice he has a bruise on his leg. He can't remember if a caregiver caused the injury or if he accidentally bumped into some furniture. What do you do?
The Texas Abuse Hotline is a toll-free, statewide reporting system that operates 24 hours a day, 7 days a week. DFPS's Statewide Intake (SWI) division operates this hotline and an online reporting website (www.TxAbuseHotline.orgExternal Link).DFPS evaluates each report, investigates when needed, and provides resources to protect the unprotected.
If you need help or know someone who may, please contact the abuse 5Hotline (800) 252-5400 to ensure your safety and help you obtain any needed services.
If the situation is an emergency, involving an immediate risk of abuse or neglect that could result in death or serious harm, call 911 or your local law enforcement agency.
If the situation is not an emergency, you can report in one of these ways:
Call the Texas Abuse Hotline at (800) 252-5400 if:
You believe your situation requires action in less than 24 hours.
You prefer to remain anonymous.
You have insufficient data to complete the required information on the report.
You do not want an e-mail to confirm your report.
Deaf or Hard of Hearing
If you are equipped with a Teletypewriter (TTY), call Relay Texas by dialing 711 or (800) 735-2989. Tell the relay agent you need to call the Texas Abuse Hotline at (800) 252-5400.
How to Report Abuse Link: https://www.dfps.state.tx.us/Training/APS_Reporting/reporting_how.asp

MORE INFORMATION
Contact a community engagement coordinator or a DFPS media specialist.
Learn more about APS on the DFPS website.
APS data is available in the online DFPS Data Book.
Learn how to recognize and report adult abuse, neglect and exploitation with this online training.
May Mental Health Awareness Month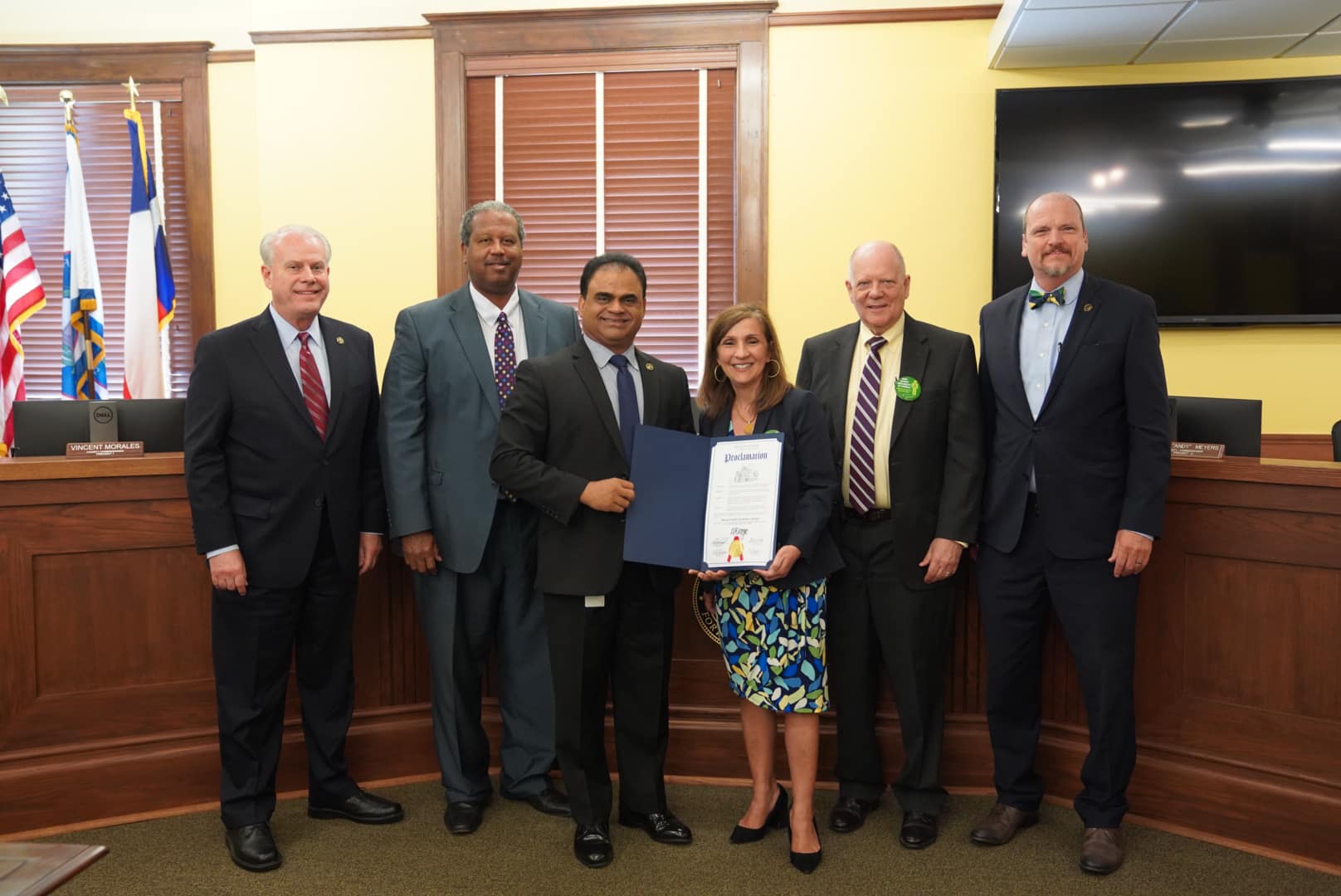 Pictured left to right: (Commissioner- Vincent Morales, Commissioner- Grady Prestage, County Judge- KP George, Dr. Connie Almeida- Director of Behavioral Health Services, Commissioner – Andy Meyers, Commissioner- Ken DeMerchant)
KP George, Fort Bend County Judge and The Commissioner's Court of Fort Bend County, Texas proclaim on this 10th day of May Mental Health Awareness Month. Fort Bend County recognizes Fort Bend County Behavioral Health Services for their dedication and services to the community.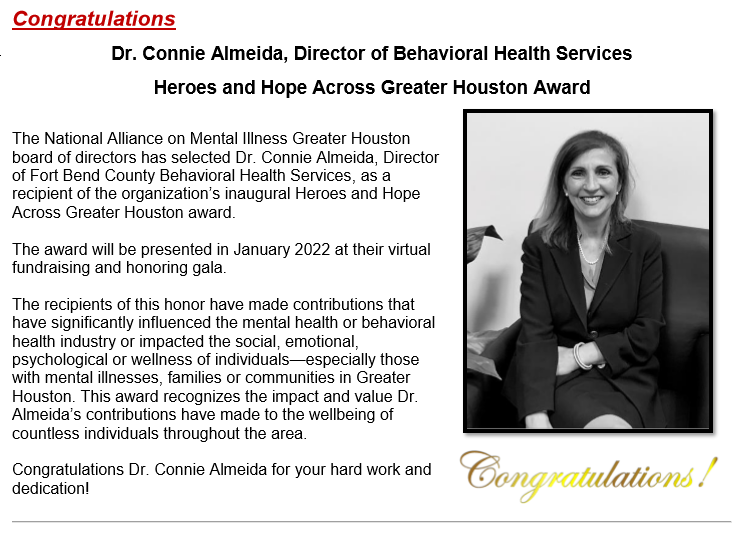 Improving the Lives of Children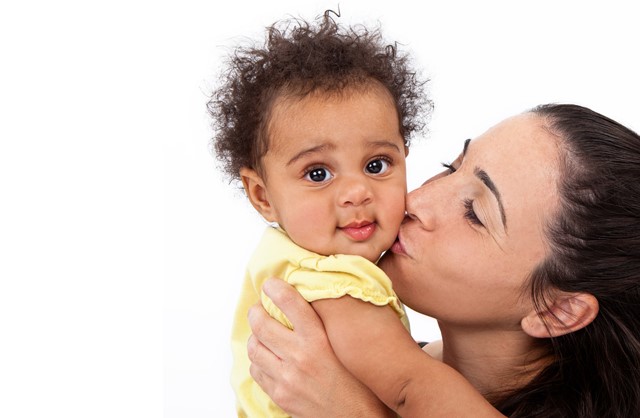 Fort Bend County Behavioral Health Services has been selected as one of the 10 sites to participate in the Alliance for Strong Families and Communities "Texas Change in Mind Learning Collaborative", with generous funding from the Episcopal Health Foundation and Powell Foundation. The cohort period will begin April 1, 2021 and run through June 30, 2023. The purpose of the collaborative is to infuse and align brain science research throughout the human-serving sector to create lasting change and policy that will improve the lives of children and families in Texas.