FORT BEND TRANSIT
Fort-Bend-Transit-updated.png
Image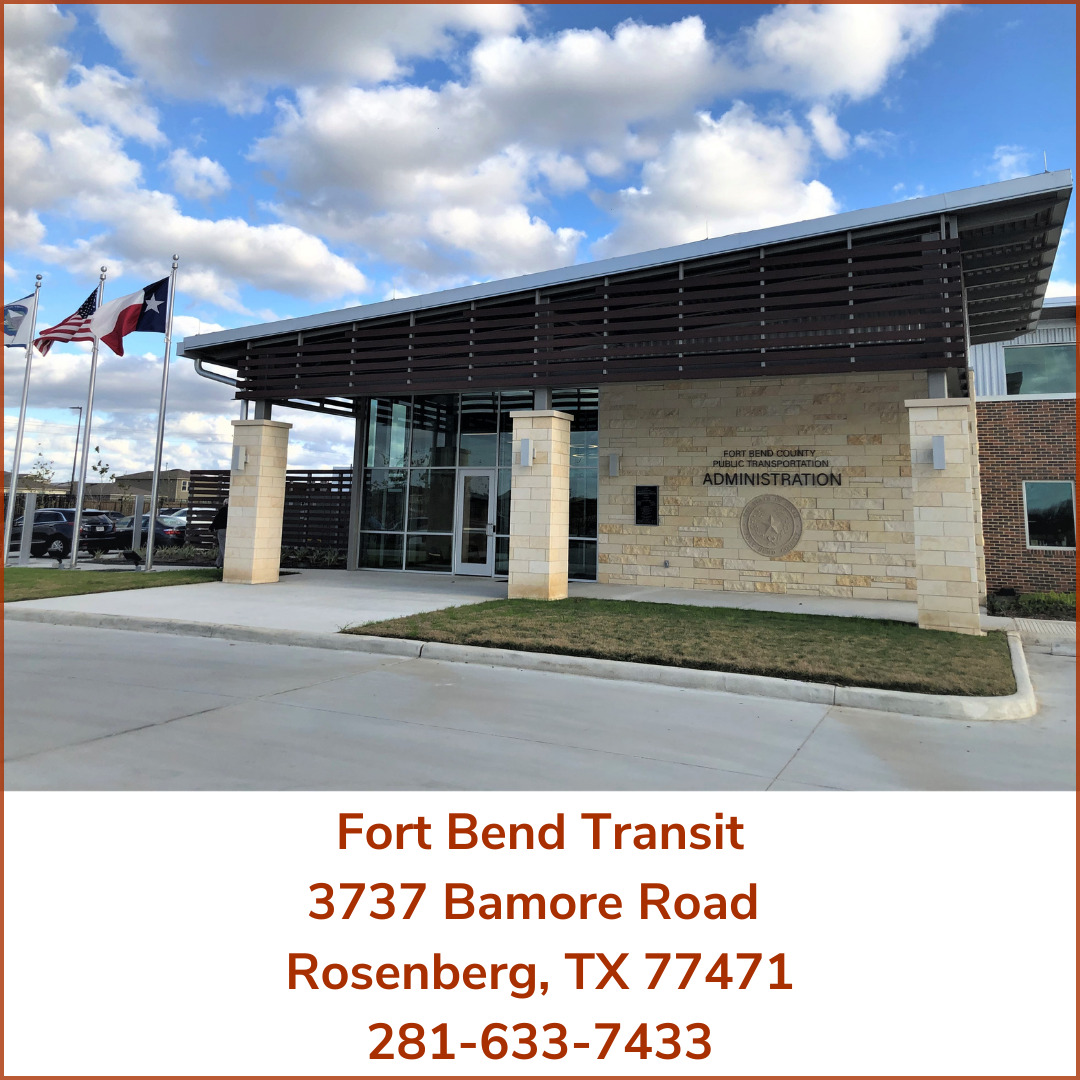 Important Notice
TMC RUN NOTICE:
March 20, 2023 @ 1:15 pm
This is a notice to all Texas Medical Center riders that TMC8 PM will not run this afternoon, March 20, 2023.  TMC9 PM is scheduled to run with no delay and will pick up TMC 8's riders.  We apologize for any inconvenience this may have caused our riders. 
Thank you for being a valued rider!
TMC RUN NOTICE:
STREET CLOSURE / STOP CLOSURE
Due to the ongoing Houston Methodist construction project, beginning at 6:00pm on Friday, March 10 - Sunday, March 12, 2023, all lanes at the intersection of Bertner Ave. & John Freeman Blvd. will be closed. Fort Bend Transit will not make the John Freeman stop between 5:24pm – 7:29pm on Friday, March 10th. The last pickup at the John Freeman stop will be at 5:16pm. The regular schedule will resume on Monday, March 13, 2023.
 
Please notice that we've made a few changes to our website.  All NOTICES will be posted under the IMPORTANT NOTICES tab.  Thank you for your continued support.
ABOUT FORT BEND TRANSIT
In 2005, the Fort Bend County Commissioners Court approved the creation of the Fort Bend County Public Transportation Department (FBCPTD) to serve the general public in Fort Bend County.  The purpose of the FBCPTD was to provide seamless service between urban and rural communities; access rural transit funding and increase services to residents in Fort Bend County without increasing a financial burden to the taxpayers.  Today, the Fort Bend County Public Transportation Department is known as Fort Bend Transit (FBT).
Fort Bend Transit's mission is to provide safe and efficient public transportation services while maintaining service quality and customer satisfaction.
FBT provides approximately 392,000 annual passenger trips (data from October 2018 – September 2019) to destinations in Fort Bend and Harris Counties.  The services provided are Demand Response and Commuter Park and Ride Services.  FBT is located in Rosenberg and has a core inventory of vehicles as well as a fleet provided through a contracted service provider. 
Demand Response Service is a curb-to-curb, shared-ride service that covers all of Fort Bend County. Customers must register for the service over the phone and may start making their reservations at least one (1) day in advance or up to thirty (30) days in advance.  Demand Response Service operates Monday through Friday, excluding County acknowledged holidays, from 8:00 am until 5:00 pm.
Commuter Park and Ride Service provide weekday service to the Texas Medical Center, Greenway Plaza, and Galleria areas of Houston.  Services operate from three (3) park and ride lot locations: (1) in Rosenberg at the Fort Bend County Fairgrounds and two (2) in Sugar Land at the University of Houston – Sugar Land and three (3) the AMC Theatre at First Colony.  Commuter service includes morning and evening schedules.  Commuter Service operates during peak hours Monday through Friday, excluding County acknowledged holidays, with routes starting as early as 4:30 am and ending as late as 9:00 pm.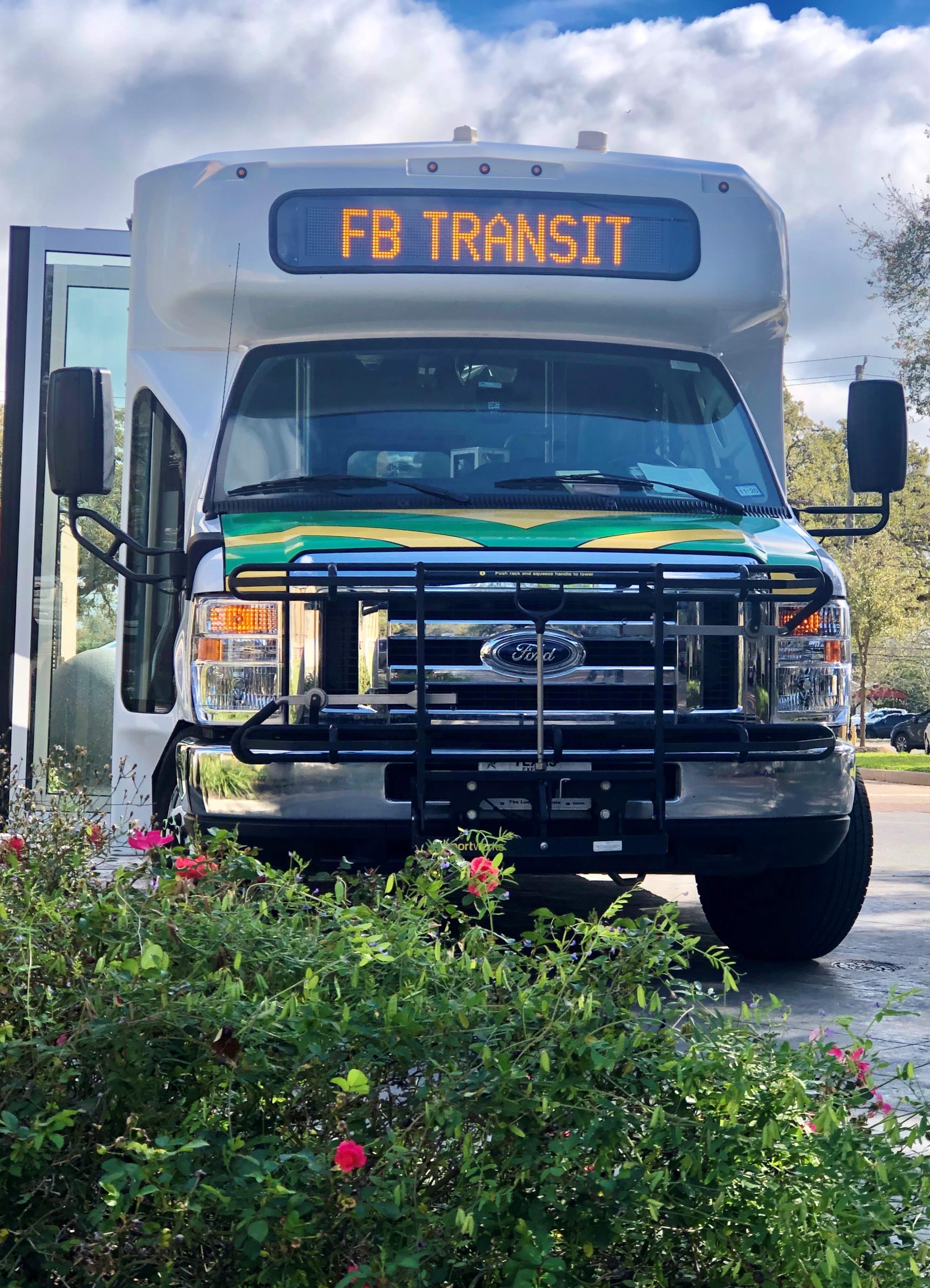 Title VI Statement
Title VI of the Civil Rights Act of 1964 prohibits discrimination on the basis of race, color, and national origin in programs & activities receiving Federal financial assistance (42 U.S.C. Section 2000d).
Fort Bend County is committed to ensuring that no individual who uses our services is excluded from participation, denied benefits, or discriminated against. If you believe you have been subjected to discrimination you may file a complaint by calling the Fort Bend County Civil Rights Officer at 281-633-RIDE, or via email at: transit@fortbendcountytx.gov
Complaints may also be filed with the following organization no later than 180 days after the date of the alleged discrimination:

Federal Transit Administration's Office of Civil Rights
ATTN: Title VI Program Coordinator
East Building, 5th Floor – TCR
1200 New Jersey Ave., SE
Washington, DC 20590
Additional information may be requested by contacting the Civil Rights Officer at 281-633-RIDE.
Title VI Notice to the Public – KNOW YOUR RIGHTS