ON SITE SEWAGE FACILITY PERMITS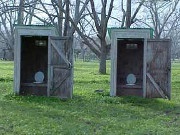 Existing On-Site Sewage Systems are Not "Grandfathered".   All modifications, including the relocation of sprinklers or adding lines, to existing On-Site Sewage Facility requires a new permit and approval process.  The submission of a complete new design, permit application and the associated fee is required prior to modifications.
There are several steps when applying for an On-Site Sewage Facility Application Permit. In order to assist in the process, the Environmental Health Department has provided these step-by-step procedures.
ON SITE SEWAGE FACILITY PERMIT PACKET:
NOTE: AN APPROVED APPLICATION IS NOT THE APPROVAL TO INSTALL OR OPERATE THE PROPOSED ON-SITE SYSTEM. A PERMIT TO CONSTRUCT AND THE LICENCE TO OPERATE THE SYSTEM WILL BE ISSUED BY OUR OFFICE WHEN THE REQUIRED INSPECTIONS ARE PERFORMED.
Obtain a copy of the survey or plat of the property.  This document should note all boundary easements and rights-of-way.  The property should contain at least one (1) acre for a well and septic system.  If the property is smaller than one acre and was platted or subdivided before 1988 a professional design must be obtained from a Professional Engineer or Registered Sanitarian.
Determine proposed location of home, septic system, and water well.  Also, include any other improvements to be made to the property (pool, barn, etc.).  All existing or proposed structures must be identified.
Obtain a soil and site evaluation of the property determining the soil suitability, set back requirements, and system selection. A Professional Engineer or State Registered Site Evaluator must conduct the site evaluation.
After the site evaluation is completed, a Professional Engineer or Registered Sanitarian must design the septic system. The Design or Planning Material must be drawn "To Scale".. 

NOTE: A courtesy list of OSSF Installers and Designers can be provided upon request. To locate an Installer in your area you may also visit Texas Commission for Environmental Quality web site at http://www2.tceq.texas.gov/lic_dpa/index.cfm?fuseaction=licall.searchgp.
 
Fill out your On-Site Sewage Facility Application in its entirety to including signature(s) and date.  

Please read carefully.

Your Plan Review Package must include the following items:

Complete and sign the On-Site Sewage Facility Application [PDF]
Site Evaluation criteria.
Design / Planning Material –Drawn "To Scale."
Copy of survey or plat of the property.
Copy of the recorded Affidavit to the Public. (For all Aerobic systems)
Copy of the Maintenance Contract signed by both parties. (For all Aerobic systems)
Copy of well log. (If applicable.)
Any request for an exception or variance to the rules shall be prepared by a Professional Engineer or Registered Sanitarian, notarized, and submitted with proposed application.
Permitting Fees

An appointment to submit and review the application and design materials is required as plan reviews are conducted 

Tuesday and Thursdays ONLY,

 between 8:30 a.m. to 11:30 a.m. & 1:30 p.m. to 4 p.m.