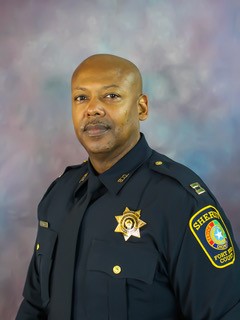 Captain Sam Hayes
Captain Samuel Hayes is the Commander of Courts Security for the Fort Bend County Sheriff's Office. He began his law enforcement career with the Harris County Sheriff's Office (HCSO) and served the citizens of Harris County for close to 30 years. He served as a supervisor for over half of that time. Captain Hayes attended University of Houston and holds a Master Peace Officer Certification with the Texas Commission on Law Enforcement.
Captain Hayes brings decades of experience to the Fort Bend Sheriff's Office and spent a vast amount of his career in patrol and field operations.  His expertise involved directing and overseeing deputies on major crime scenes and ensuring each scene is completed thoroughly and that citizens are treated professionally.  Captain Hayes' prior assignment includes a geographic area encompassing 16 municipalities and managing close to 100 deputies in his district.  He believes in accountability and embraced as well as respected the diverse population he served.
Captain Hayes retired from HCSO in December of 2020 with an honorable discharge. He is looking forward to providing professional services to the citizens of Fort Bend County.
Captain Sam Hayes may be reached by email at Sam.Hayes@fortbendcountytx.gov.
Download Press Release [PDF]
Download Press Release [PDF]
Tuesday, January 31, 2023
Jan. 31, 2023 - All day event.
Dial 9-1-1 for emergencies only
Non-emergencies 281-341-4665
To report a crime tip 281-341-4686 281-342-TIPS(8477)