Photo Taken Date: 2013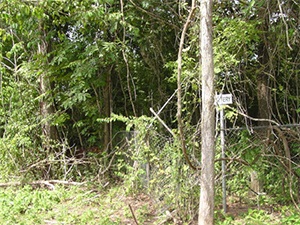 Main Name: Plantation Road Cemetery | FB-C107
Alternate Names:
Hayes Cemetery
Plantation Road Cemetery
Access: Access to the cemetery is via PRIVATE property. Permission from the land owner MUST be obtained prior to visiting the cemetery.
Location: Watts Plantation Rd, Missouri City
NAD83 Coordinates: 29 31.625 N, 95 31.553 W
Map Coordinates: 29.527083, -95.525883
Status and Other Information: The cemetery status is inactive. The cemetery is not affiliated with any organizations and the ethnicity is primarily Afro-American. The size of the cemetery is 0.03 acre. The number of known burials is 7 and the date of the earliest burial is 1905.
View Plantation Road Cemetery | FB-C107 in a larger map