Photo Taken Date: 2009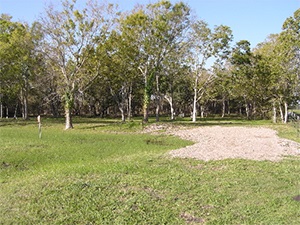 Main Name: Mt. Tabor Baptist Church Cemetery | FB-C096
Alternate Names:
Julif Area Cemetry
Mt. Tabor Cemetery
Access: Public
Location: 211 Porter Rd, Arcola
NAD83 Coordinates: 29 26.798 N, 95 28.593 W
Map Coordinates: 29.446633, -95.476550
Status and Other Information: The cemetery status is active. The cemetery is affiliated with a religious organization and the ethnicity is primarily Afro-American. The size of the cemetery is 0.27 acres. The number of known burials is 22 and the date of the earliest burial is 07/01/1984.
View Mt. Tabor Baptist Church Cemetery | FB-C096 in a larger map