Photo Taken Date: September 2012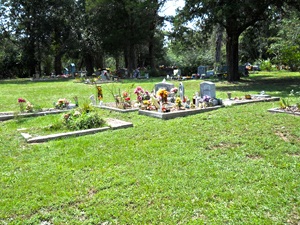 Main Name: Fulshear Spanish Cemetery | FB-C042
Alternate Names:
Access: Public
Location: Wallis Street, Fulshear
NAD83 Coordinates: 29 41.949 N, 95 54.432 W
Map Coordinates: 29.699150, -95.907200
Status and Other Information: The cemetery status is active.  The cemetery is not affiliated with any organizations and the ethnicity is primarily Hispanic.  The size of the cemetery is 0.81 acres.  The number of known burials is 287 and the date of the earliest burial is 11/12/1910.

View Fulshear Spanish Cemetery FB-C042 in a larger map