Photo Taken Date: 2013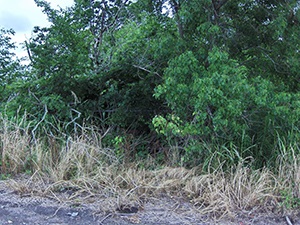 Main Name: Wallis Road Cemetery | FB-C133
Alternate Names: None
Access: Cemetery access is via PRIVATE property. Permission from the land owner MUST be obtained prior to visiting the cemetery.
Location: FM-1952, Orchard
NAD83 Coordinates: Latitude: 29 34.419 N, Longitude: 96 00.236 W
Map Coordinates: 29.57365, -96.00393
Status and Other Information: The cemetery status is inactive. The cemetery is not affiliated with any organizations and has no primary ethnicity. The size of the cemetery is 0.03 acre. The number of known burials is 1 and the date of the burial is unknown.