Commissioner McCoy Announces $4 Million Initial Investment into Landmark African-American Memorial in Fort Bend County; Commemorates Texas's First Black State Representative and Kendleton History
February 27, 2023
KENDLETON, TX – On February 27, 1886, Fort Bend County's trailblazing Benjamin Franklin Williams – a former slave-turned State Representative, the very first Black legislator in Texas history, one of only 10 Black constitutional delegates during Reconstruction, and one of the forefathers of Kendleton, among many other honors – passed away.
On this same day 137 years later, Fort Bend County's Commissioner Dexter L. McCoy – the newest, youngest elected official in the county – took to the stage, steps away from Williams's resting place, and announced a landmark investment into the very same community Williams helped establish.
Fort Bend County – one of the three Texas counties with official accounts of lynching – has a long, important African-American history, including but certainly not limited to slavery, convict-leasing, the establishment of freedmen's towns, and the election of the first-ever Black officials in Texas. Newman Chapel Cemetery and Oak Hill Cemetery are two historical freedmen's burial sites located in present-day Bates M. Allen Park, the site of the original Kendleton settlement.
In front of a packed crowd with standing room only, Commissioner McCoy announced a $4 million initial investment into the redevelopment and preservation of the site, including the construction of a public park and memorial. The African-American Memorial will incorporate the locations of the two cemeteries into trails and reflection spaces, all located just outside the city of Kendleton, a historic freedmen's town.
"Sadly, this site where we stand – this sacred, hallowed ground – is not reflective of the stature befitting of those buried here and the rich story of which they are part of … Many of their tombstones have been forever lost, and so now it is our responsibility to pay due homage." Kendleton, one of the very first freedmen's communities established after emancipation, is home to a breadth of important, yet underrecognized Texas history.
Williams aside, the town's descendants also include Barbara Jordan, the legendary Houston Congresswoman whose father preached to the community, as well as Walter Moses Burton, the first African-American Sheriff in U.S. history. "This memorial will commemorate the Black experience, not only in Fort Bend County, but in Texas, and really be reflective of the stories from Kendleton all the way to Congress and beyond."
Commissioner McCoy was joined by a bipartisan medley of local officials, reflecting the apolitical, unifying nature of this solemn project. He was joined on-stage by Former Congressman Pete Olson, Architect Gregory Hines, and Kendleton Mayor Darryl K. Humphrey, Sr. Other elected officials in attendance included Sheriff Eric Fagan, Treasurer Bill Rickert, District Attorney Brian Middleton, County Attorney Bridgette Smith-Lawson, and Constable Mike Beard, among many others. Also present were representatives of Congresswoman Lizzie Fletcher, County Judge K.P. George, and Commissioners Andy Meyers and Grady Prestage.
Olson was outspoken and passionate about the importance of the investment and the legacy that it speaks to. The former Republican Congressman opined passionately: "This is a great day – a celebration of the heart and soul of Fort Bend County." Olson recently found Williams's tombstone buried face-down in the mud while conducting a research project, and has since led a months-long community service effort to restore the dilapidated burial sites. "I was surprised, angry, disgusted, and hurt by what happened to his grave, and every grave in this park," he remarked.
Olson pointed out that of the three service events he's organized at the site, only one person has shown up every time: Commissioner McCoy. "The first time he came out was Juneteenth … and [he] said, 'If I'm elected to be Commissioner, I will fix this within my first 100 days in office.' Well, Dexter lied. He did that in less than 60 days."
Politicians aside, Commissioner McCoy was joined by a variety of local community organizations, including FBC Heritage Unlimited, Black Cowboy Museum, S.O.J.E.S, NAACP Missouri City & Vinicity Branch, Fort Bend Green, Fort Bend Master Naturalist, and Daughters of the American Revolution Alexander Hodge Chapter. Also present were direct descendants and family members of those buried on-site.
Commissioner McCoy announced that in the coming months, his office will host community engagement sessions to help imagine the programmatic aspects of the memorial, including subsequent additions and next steps. "This is going to be a multi-phase project which will require a great deal of community support." McCoy hopes that "…by this time next year, we will be well on our way in breaking ground on this most historic and monumental location."
In his closing remarks, Commissioner McCoy reiterated his commitment to honoring those who are buried here, and his appreciation for the community's support of this project. "I'm a man of faith, and I believe that our being here is no accident … I just want to say thank you from the bottom of my heart, from this young country boy who could never have imagined being in a place like this … with folks like you."
african_american_memorial.jpg
Image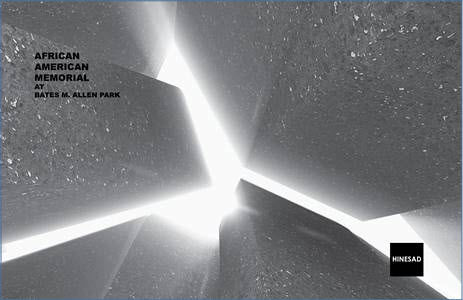 african_american_memorial_2.jpg
Image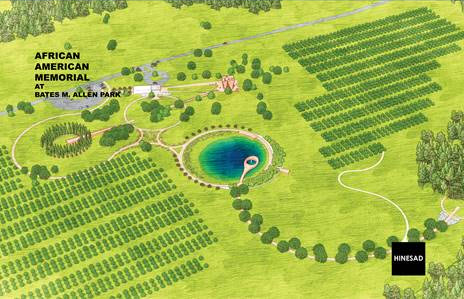 african_american_memorial_3.jpg
Image