Judge Mark Gibson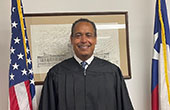 Commissioners Court appointed Mark Gibson to complete the unexpired term of Retiring Judge Joel C. Clouser, Sr. on May 11, 2021. Judge Gibson was sworn in on July 1, 2021. He resides in the northern part of Sienna and has been a resident of Precinct 2 for the past eight years. In 2016, he was the Democratic Nominee for Texas Congressional District 22. Additionally, he is the former President of Fondren Green Meadows Civic Association and former elected Director of Colony Crossing HOA.
Judge Gibson served 30 years in the U.S. Army, and retired in 2015 with the rank of Colonel. He is a Legion of Merit (LOM) recipient, Meritorious Service Medal (MSM) with Silver Oak Leaf Cluster, and a graduate of U.S. Army War College with a Master in Strategic Studies. He is a licensed attorney and a graduate of South Texas College of Law and University of Houston. He is a former member of the Southern District of Texas Federal Court and the U.S. District Court for the District of Columbia.
Judge Gibson is a proud parent of three young people: Christian, Peyton and Mallory. He was married almost 20 years to the late Althea Hamilton Gibson. He enjoys his spare time assisting with funeral services as a licensed funeral director, his family and close friends, and the family dog, Socks.
Judge Gibson looks forward to continue to serve the residents of Precinct 2 for the years to come. He has a passion to be a role model and mentor to youths, who are struggling with behavioral and life challenges in the school system. He looks forward to educating the citizens of Precinct 2 on the issues and matters that they may face before the court and how they can be best prepared to proceed or defend their case.
Free viewers are required for some of the attached documents.
They can be downloaded by clicking on the icons below.
Acrobat Reader

Windows Media Player

Word Viewer

Excel Viewer

PowerPoint Viewer