Judge Roderick Garner
Judge-Roderick-Garner-300.jpg
Image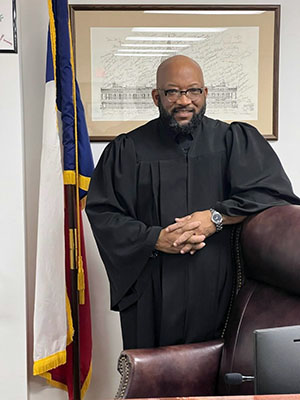 Justice of the Peace, Precinct 2, Place 1
As a longtime resident of Precinct 2, Judge Garner is married to his beautiful wife Cynthia, and they are blessed with a blended family of four children and 9 grandchildren. Judge Garner has dedicated most of his adult life to the service of Fort Bend County. He is the youngest of three brothers: (Michael Garner, Ronald Garner). Born in Foster Place, Houston, Texas. Judge Garner's father, Horace Garner, moved his family to Fort Bend County in 1973.
Judge Garner attended Fort Bend Schools from elementary through high school graduating from "THE WILLOWRIDGE HIGH SCHOOL" in 1985. After graduating high school, he attended Texas Southern University and Southwest Texas State University (where he pledged Kappa Alpha Psi Fraternity Incorporated in the Fall of 1986). Judge Garner later transferred to the University of Houston-Downtown where he completed his bachelor's degree in Criminal Justice in 1992.
After working for only 6 months as a state parole officer, Judge Garner resigned to attend the Texas Department of Public Safety Trooper Law Enforcement Academy in Austin, Texas. In 1994 he began a career as a Trooper and promoted to the position of Narcotics Sergeant/Investigator including covert operations and as a joint federal drug task force operative for DEA. In 2003, Judge Roderick Garner accepted an English teaching position and became the Head Baseball Coach at his alma mater Willowridge High School.  He worked at Willowridge for 10 years before pursuing his master's degree in Criminal Justice at Colorado Technical University maintaining a 3.95 GPA and began teaching Criminal Justice college courses and Peace Officer Training Academy courses.
Judge Garner was instrumental in the naming of B.J. Baines Middle School in Sienna (due to the impact Billy Baines made in the community as the elementary principal of Blue Ridge elementary in the early 1970s). Judge Roderick Garner served as a Captain in Waller County while attending Thurgood Marshall School of Law.  Upon graduating Law School in 2016, Judge Garner left Waller County and accepted a position as the Chief Deputy for Fort Bend County Precinct 2 Constable's Office where he served for four years before being elected to the bench in November 2022. Judge Roderick C. Garner Sr. is "HOMEGROWN" from the community, in the community and for the community!