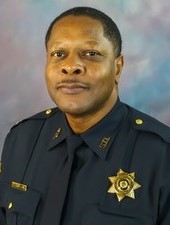 Captain Gregory Johnson
Captain Gregory Johnson is the Commander of the Gus George Academy for the Fort Bend County Sheriff's Office (FBCSO).  He earned a Bachelor of Science Degree in Mathematics from Texas Southern University in Houston, Texas. He served over 30 years as a law enforcement officer with the Houston Police Department (HPD). During his tenure with HPD, Captain Johnson spent 15 years patrolling city streets and neighborhoods and treating citizens with professionalism, fairness, respect, and compassion. He also helped to make it safe for citizens by arresting violent criminals and those who violated the peace and sanctity of the city.
Captain Johnson also spent over 15 years working as a Recruiter, Interviewer and Background Investigator. He travelled throughout the United States recruiting some of the best and most qualified applicants for the HPD. Captain Johnson conducted thorough background investigations on police applicants, law enforcement officers from other agencies seeking lateral entry, and those former peace officers seeking to be reinstated in law enforcement.
Captain Johnson retired from HPD with an Honorable Discharge prior to joining the Fort Bend County Sheriff's Office.
Captain Johnson may be reached by email at Gregory.Johnson@fortbendcountytx.gov.
Donna Silewicz is also Captain's administrative assistant. She may be reached at 281-238-1583 or by email at Donna.Silewicz@fortbendcountytx.gov.
Dial 9-1-1 for emergencies only
Non-emergencies 281-341-4665
To report a crime tip 281-341-4686 281-342-TIPS(8477)