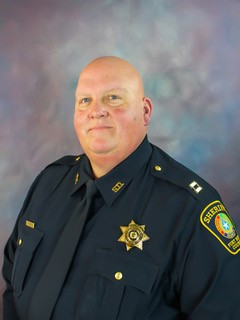 Captain Tim Chesser
Captain Tim Chesser is the Commander of the Detention Division. He has been an employee of the Fort Bend County Sheriff's Office for over 26 years.  He attended the University of Houston Downtown Police Academy. He began his career with the Fort Bend County Sheriff's Office as a detention deputy.  Captain Chesser served in the Detention Division and later transferred to the Patrol Division, where he served as a deputy for 14 years.  He was selected to serve as a Field Training Officer and served in that role for eleven years. 
Captain Chesser was promoted to detective, and served ten years in the Criminal Investigations Division. As a detective in Criminal Investigations, he was assigned to the Family Violence unit, the Robbery/Homicide unit, and the Internet Crimes Against Children unit. He was promoted to sergeant and remained in the Criminal Investigations Division. Captain Chesser supervised several different units while serving as sergeant, to include Family Violence, Misdemeanors, Auto Theft, Human Trafficking, Internet Crimes Against Children, and CID Administrations. He was also a member of the Houston Metro Internet Crimes Against Children Task Force (ICAC).
Captain Chesser promoted to lieutenant and was assigned to the detention division. As lieutenant, he served as the Detention Bureau Training Coordinator. He also supervised the Detention Investigations unit, and Magistrate Court.  As captain, he manages the daily operations of the Detention Division.  His patrol experience, supervisory skills, investigative experience, and overall leadership capabilities, coupled with his extensive training serve him well in this role.
Captain Chesser achieved numerous certifications and law enforcement proficiencies. His accomplishments include, Police Instructor License, Master Peace Officer Certification, Field Training Certification, Basic Jailer Certification, and Jail Administrator Certification. Captain Chesser is a graduate of the National Jail Leadership Command Academy at Sam Houston State University, and has completed the FBI-LEEDA Trilogy.
Captain Chesser also holds specialized certifications regarding investigations of Child Exploitation and Human Trafficking cases.
Captain Chesser is also an instructor at the Gus George Law Enforcement Academy.
Captain Chesser attended Houston Community College, and the University of Houston.
Captain Chesser is a native Texan. Fort Bend County has been his home for over 12 years.
Captain Tim Chesser can be reached by email Tim.Chesser@fortbendcountytx.gov.
Jilverto Escamilla is the administrative assistant to Captain Tim Chesser. He may be reached at 281-341-8517 or by email at Jilverto.Escamilla@fortbendcountytx.gov.
The Support Division has recently re-established agreements with the United States Marshals Service regarding the contract housing for Federal inmates. As such, the Support Division is directed by Lieutenant E. Dewveall. He is also the Federal Liaison for the Detention Bureau with the U.S. Marshals Service.
Lieutenant W. Boehnemann ensures that the Fort Bend County Sheriff's Office is compliant with the federally mandated Prison Rape Elimination Act (PREA) of 2003.
PRESS RELEASE Fort Bend County Sheriff's Office SHERIFF ERIC FAGAN MEDIA CONTACT: Michelle…
(FORT BEND COUNTY, TEXAS) – Fort Bend County Sheriff's deputies with assistance of the Gulf Coast…
Tuesday, October 10, 2023
Dial 9-1-1 for emergencies only
Non-emergencies 281-341-4665
To report a crime tip 281-341-4686 281-342-TIPS(8477)