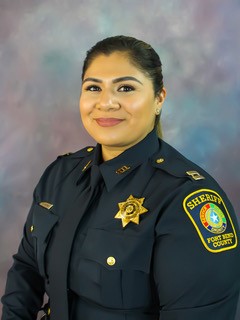 Captain Tiffaney Budnik
Captain Tiffaney Budnik is Bureau Commander for the Support Services Division.  She was born and raised in Fort Bend County and has served the Fort Bend County Sheriff's Office for 17 years.  She was hired on as a Detention Officer after graduating from the Gus George Law Enforcement Police Academy. After serving a year in the Detention Center, she transferred to the Patrol Division as a deputy.  During her 10 years in patrol, Captain Budnik took on many assignments to include, Field Training Officer, SWAT team member, and Patrol supervisor.
In 2015, Captain Budnik was given the opportunity to transfer to the Criminal Investigations Division where she led the Burglary and Theft Unit.  While supervising this team, she was able to collaborate with other agencies which was instrumental in solving a large crime ring targeting Fort Bend County residents.  In 2019, Budnik promoted to lieutenant and led the Crisis Intervention Team (CIT).  She was also the liaison for the Office of Emergency Management.  As leader of the CIT team, Captain Budnik worked with various non-profits and other mental health facilities including area hospitals to continue efforts providing support to those impacted by mental illness.  While operating in this capacity, she was able to build lasting relationships in Fort Bend County and surrounding communities.  While serving as the Emergency Management Liaison, she worked to provide support for field operation staff during catastrophic events.
Captain Budnik has worked tirelessly to hone her skills, knowledge, and abilities within the various divisions and units within Sheriff's Office which has prepared her for her new role.
Captain Budnik holds an Advanced Peace Officer Certification with the Texas Commission on Law Enforcement.  Her accomplishments include Mental Health Officer, Instructor Certification, Incident Command, Field Training Certification, and Basic Jailer Certification.  She is also pursuing a degree in Criminal Justice.
Captain Budnik may be reached by email at Tiffaney.Budnik@fortbendcountytx.gov.
(FORT BEND COUNTY, TEXAS) – Fort Bend County Sheriff's deputies with assistance of the Gulf Coast…
(FORT BEND COUNTY, TEXAS) – Fort Bend County Sheriff's detectives arrested Jose Jose Aguirre, 24…
Tuesday, October 10, 2023
Dial 9-1-1 for emergencies only
Non-emergencies 281-341-4665
To report a crime tip 281-341-4686 281-342-TIPS(8477)