Deputy Chief Jimmy Evans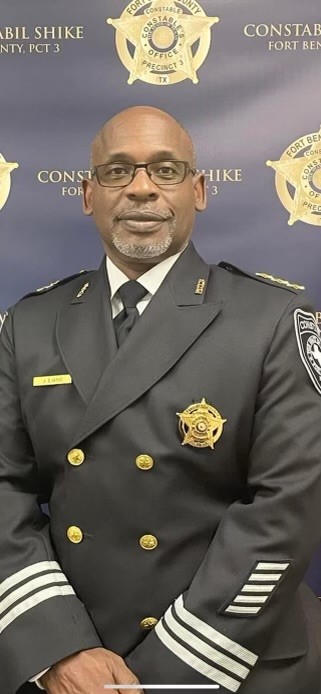 Chief Deputy Jimmy Evans began his Law Enforcement career over 25 years ago, with the Metro Transit Police Department. Chief Evans believes in a Community-Oriented Policing philosophy and is committed to building a lasting relationship between the community he serves and local law enforcement. Chief Evans has received several community service awards for his outstanding outreach efforts in various communities.

  Chief Evans was appointed as the Chief Deputy of the Fort Bend County Constable Pct. 3 in January 2021. Currently, Chief Evans is responsible for the overall operation of the office, Administration, Courts, Patrol, Civil, and the Warrant Divisions.

  Chief Evans has over 12 years as a police supervisor, Captain, Lieutenant (retired 2020), and Sergeant. Chief Evans served in Patrol, Special Operation, Narcotics, Traffic, Community Liaison, Bicycle Patrol and Training Division. Chief Evans served several years as the use of force and vehicle pursuit compliance supervisor, during my tenure I was part of a team that was responsible for a 50% reduction in vehicle pursuits/use of force.

  Chief Evans holds a Master's Degree in Administration of Criminal Justice with a Concentration in Forensic Psychology, a Bachelor of Science in Administration of Criminal Justice and an Associate of Applied Science - Law Enforcement.

  He has completed the FBI-Texas Command College, FBI-LEEDA – Command Leadership Institution, Bill Blackwood Law Enforcement Management Institute of Texas-Command Leadership Series, Bill Blackwood Law Enforcement Management Institute of Texas – Texas Constable Leadership College. Chief Evans is a proud member of the FBI National Academy Associates of Texas, International Association of Chiefs of Police.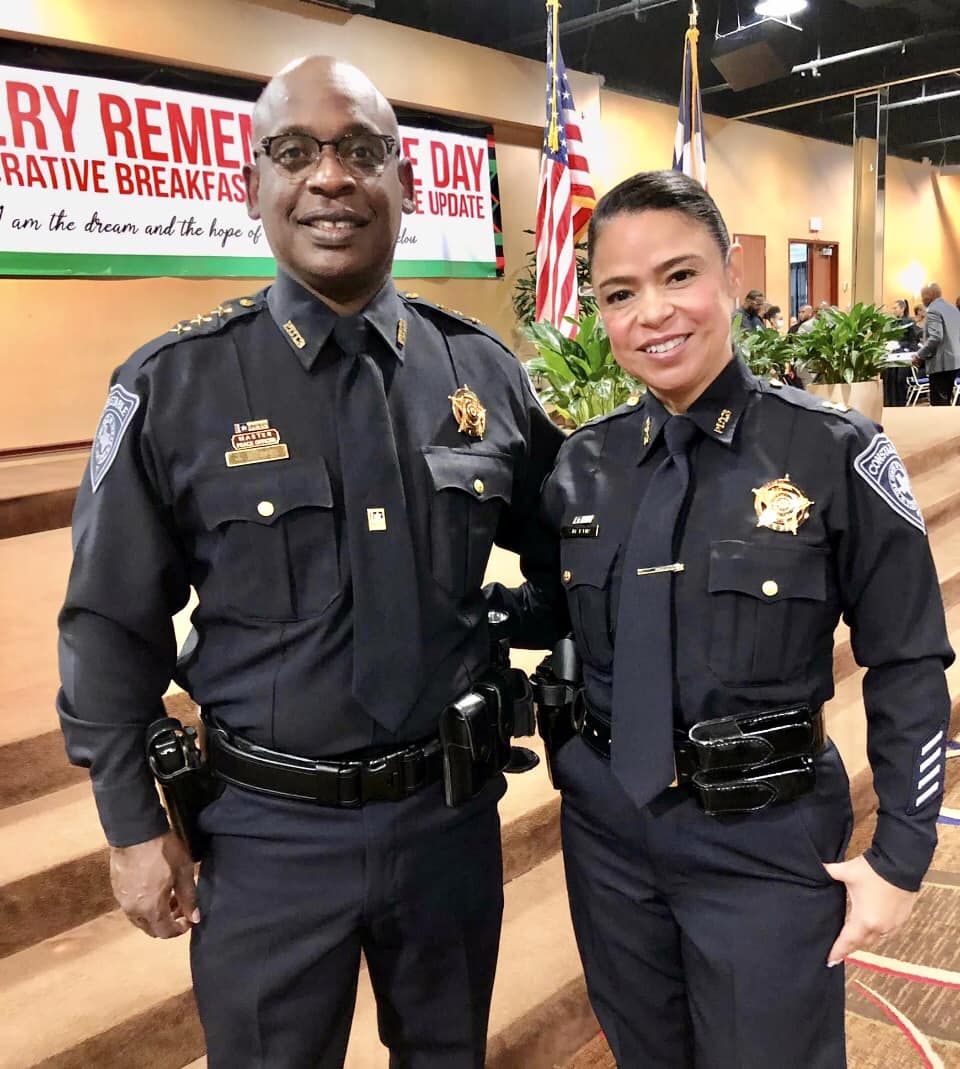 Captain Veronica Martin
Captain Veronica Martin began her Law Enforcement career over 20 years ago serving in several leadership roles. Currently, Capt. Martin oversees the overall growth and development of the Fort Bend County Constable Precinct 4 Office while specializing in the Civil, Administrative Divisions and Special Operations. Additionally, Capt. Martin is a graduate of the Law Enforcement Management Institute of Texas Leadership Command College (LEMIT), graduated from the Leadership Inventory for Female Executives at Sam Houston State University and holds a Master Peace Officer Certification from the Texas Commission on Law Enforcement. Capt. Martin has implemented an outstanding Civil Division by serving the community in the processing of all court ordered Citations, Writs of Possessions and Warrant Executions in a timely and professional manner. Capt. Martin's leadership extends to several other capacities such as: Public Information Officer, Budget Coordinator, Training Coordinator, Internal Affairs Investigations, Fleet Management and Professional Development for all staff. As Supervising Administrator, Capt. Martin also manages the implementation of New Programs, Strategic Planning, Reserve Deputy Program and Court Security.
---
Lieutenant Martin Garret - Patrol
Lt. Garret graduated from Dulles High School in Sugar Land, Texas in 1987. He started his career in the United States Marine Corps in 1988. Shortly after, his unit was activated for the Persian Gulf War in 1990. He served in Desert Storm/Desert Shield returning home in 1991. He then started his law enforcement career in 1992 with the Missouri City Police Department after graduating valedictorian from the Gus George Law Enforcement Academy. Between 1992 and 2001, Lt. Garret worked for 3 law enforcement agencies in Fort Bend. He was working at the Meadows Place Police Department when the attacks of 911 occurred. Lt. Garret decided to reenlist in the Marine Corps 4 years active duty and went to Iraq two more times.
Upon his return from active military status, Lt. Garret worked at the Fulshear Police Dept. as a Lieutenant, and then with Fort Bend County Pct 4 Constable's Office as a Sergeant for four years and then promoted to Lieutenant in 2021. While with Pct 4, he received a vast amount of training and became an advanced crash reconstructionist, crash data analyst, intoxilyzer operator, SFST instructor, firearms instructor, and completed many supervisory classes to include the FBI-Leeda leadership trilogy.
Lt. Garret was directly involved in assisting the Fort Bend County Sheriff's Office in getting the reconstruction team started and was often requested directly by DPS to reconstruct their scenes. Lt. Garret has approximately 27 years of service in law enforcement and 12 years total in the United States Marine Corps. He holds a Master Peace Officer Certification with TCOLE.