Honorable Chad Bridges, Judge
chad-bridges-300.jpg
Image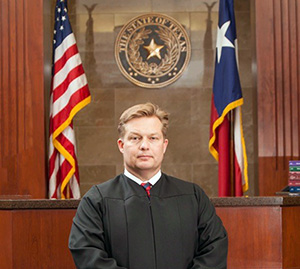 Chad Bridges was sworn in as Judge of the 458th District Court on January 1, 2023.  Judge Bridges had been Chief of the Family Violence Division for the Fort Bend County District Attorney's Office from 2019 through 2022.  Previously, he was the Judge of the 240th District Court from 2015 through 2018.
Judge Bridges began his legal career as an Assistant District Attorney in Harris County in 1994.  In that position, he handled post-conviction death penalty litigation on behalf of the State of Texas. After his assignment in the Appellate Division of the Harris County District Attorney's Office ended, Judge Bridges transferred to the Trial Bureau and prosecuted misdemeanor and felony cases, including an assignment with their Family Criminal Law Division.
Judge Bridges subsequently became the First Assistant District Attorney for the Waller County Criminal District Attorney's Office. During his tenure in Waller County, he helped create a Family Violence Division as well as a Narcotics Taskforce.  In 2000, Judge Bridges left the criminal law arena to become Legal Counsel for Computer Sciences Corporation for three years.
First joining the Fort Bend County District Attorney's office in 2003, Judge Bridges was named Chief Prosecutor of their Family Violence Division. During his time with the Fort Bend County District Attorney's Office, Judge Bridges served as president and later as director of the Fort Bend County Crime Victim's Response Team (CVRT).  In 2011, Judge Bridges received the Carol Rees Award from CVRT for outstanding service to crime victims.
In furtherance of his commitment to public service, Judge Bridges has trained other judges for Texas Council on Family Violence.  Judge Bridges has also presented for Texas District and County Attorney's Association (TDCAA) and has acted as a faculty advisor for TDCAA's Advanced Trial Skills Course.  Judge Bridges was published in the Texas Center for the Judiciary's "In Chambers" journal in 2017.  Judge Bridges earned his Board Certification in Criminal Law in 2020.  Judge Bridges is an adjunct professor of criminal justice at Houston Christian University.
Physical Address: Fort Bend County Justice Center, Courtroom 3F, 1422 Eugene Heimann Cir, Richmond, TX 77469
Mailing Address: 301 Jackson Street, Richmond, TX 77469
Phone: 832-471-4905
Language Access | Important Notices
Notice of Language Assistance Services
FORT BEND COUNTY COURTS AT LAW AND DISTRICT COURTS ARE COMMITTED TO PROVIDING MEANINGFUL ACCESS TO COURT SERVICES FOR LIMITED ENGLISH PROFICIENT (LEP) PERSONS. LANGUAGE ASSISTANCE SERVICES ARE AVAILABLE AT NO COST TO ANY PERSON ASSOCIATED WITH A COURT PROCEEDING WHO HAS DIFFICULTY COMMUNICATING IN THE ENGLISH LANGUAGE OR WHO NEEDS A DOCUMENT TRANSLATED INTO ENGLISH.
IF YOU NEED ASSISTANCE IN A LANGUAGE OTHER THAN ENGLISH, YOU MAY REQUEST LANGUAGE ASSISTANCE SERVICES FREE OF CHARGE. TO REQUEST INTERPERETATION OR TRANSLATION SERVICED FOR THE FORT BEND COUNTY COURTS, PLEASE VISIT THE LANGUAGE ACCESS WEBPAGE.