Important Notice
EFFECTIVE November 1, 2021
RE: CRIMINAL DOCKETS
Effective November 1, 2021, the 458th District Court will NO LONGER be accepting  electronic resets e-filed with the District Clerk's Office.  Resets electronically filed will be rejected and your client may be subject to a bond forfeiture. Please have your  client here in person as directed. NOTE: Please see below regarding resets for cases set with the Associate Judge.

 

Please contact the District Attorney's Office at 281-341-4460 to have any pleas worked out before court.  If you or your client have any COVID related issues, please contact the prosecutor for an agreed reset date.

 

The court requests for everyone to continue wearing face coverings until further notice and per order of the County Judge, KP George.
NOTICE OF ACCOMODATIONS FOR AT-RISK INDIVIDUALS
Due to COVID-19 many individuals are considered "at-risk" members of the vulnerable population.  These members include, but are not limited to, individuals who are over 65 and individuals with serious underlying health conditions, such as high blood pressure, chronic lung disease, obesity, asthma, and those whose immune system are compromised.  If you believe you are a member of this vulnerable population, please contact the Court Coordinator, Gabriela Romero, via email at Gabriela.Romero@fortbendcountytx.gov and provide your full name, cause number, and contact information to advise the court regarding your need for special accommodations and a specialized docket to ensure your continued safety.
Honorable Robert Rolnick, Presiding
Court Staff
Court Coordinator: Gabriela Romero
Email: Gabriela.Romero@fortbendcountytx.gov
Telephone: 832-471-4905
Court Reporter: Gina Jackson
Email: Gina.Jackson@fortbendcountytx.gov
Bailiff: Dionne Hackney
458TH ASSOCIATE DISTRICT COURT
NOTE: Arraignment Dockets and the first few settings of a case are set with Judge Taniya Al-Amin. These cases may be reset electronically until indicted. Thereafter, please contact the Court Coordinator, Bianca Mach, regarding electronic resets or any questions pertaining to a case pending in that court.
Court Staff
Associate Judge Taniya Al-Amin
Associate Judge Court Coordinator: Bianca Mach
Phone: 346-481-6014
Email: Bianca.Mach@fortbendcountytx.gov
Honorable Robert L. Rolnick, Judge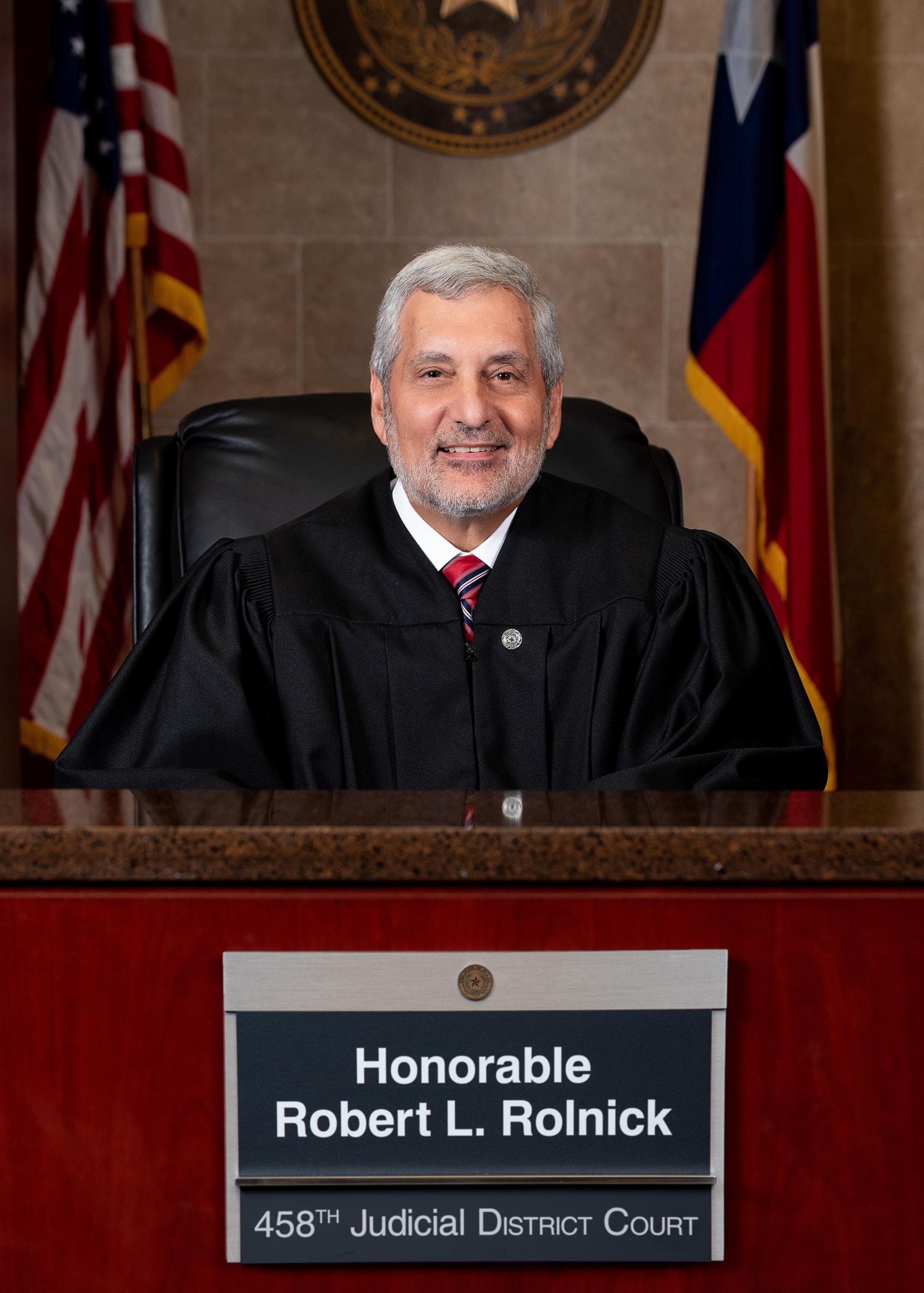 Physical Address: Fort Bend County Justice Center, Courtroom 3F, 1422 Eugene Heimann Cir, Richmond, TX 77469
Mailing Address: 301 Jackson Street, Richmond, TX 77469
Phone: 832-471-4905
Language Access | Important Notices
Notice of Language Assistance Services
FORT BEND COUNTY COURTS AT LAW AND DISTRICT COURTS ARE COMMITTED TO PROVIDING MEANINGFUL ACCESS TO COURT SERVICES FOR LIMITED ENGLISH PROFICIENT (LEP) PERSONS. LANGUAGE ASSISTANCE SERVICES ARE AVAILABLE AT NO COST TO ANY PERSON ASSOCIATED WITH A COURT PROCEEDING WHO HAS DIFFICULTY COMMUNICATING IN THE ENGLISH LANGUAGE OR WHO NEEDS A DOCUMENT TRANSLATED INTO ENGLISH.
IF YOU NEED ASSISTANCE IN A LANGUAGE OTHER THAN ENGLISH, YOU MAY REQUEST LANGUAGE ASSISTANCE SERVICES FREE OF CHARGE. TO REQUEST INTERPERETATION OR TRANSLATION SERVICED FOR THE FORT BEND COUNTY COURTS, PLEASE VISIT THE
LANGUAGE ACCESS
WEBPAGE.