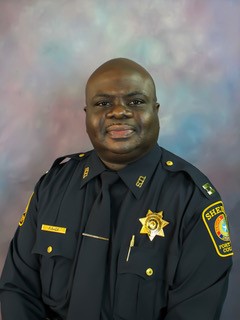 Captain Michael Fisher
Captain Michael Fisher is the Commander of the Patrol Division. He is a 26-year employee of the Fort Bend County Sheriff's Office.  He attended the Gus George Law Enforcement Academy and after graduation, was hired as a detention officer.  Captain Fisher served two years in the Detention Center before transferring to the Patrol Division, where he served as a deputy for 13 years.  He was chosen to perform as a Field Training Officer and served in this role for ten years. 
Captain Fisher was promoted to sergeant and served four additional years in the Patrol Division.  He was promoted to lieutenant and assigned to the Detention Division but quickly found his way back home to patrol where he served for six years until his promotion to captain.  His patrol experience, supervisory skills, and overall leadership, coupled with his extensive training will serve him well in his new role.
Captain Fisher achieved numerous certifications and law enforcement proficiencies. His accomplishments include graduation from the FBI LEEDA Leadership Trilogy, Mental Health Officer proficiency, Instructor Certification, Master Peace Officer Certification, Incident Command, Standardized Field Sobriety Testing, Crash Reconstruction, Field Training Certification and Basic Jailer Certification. Captain Fisher also attended Galveston College, University of Texas, and University of Houston.
Captain Fisher is a native of Galveston, Texas, but Fort Bend County has been his home for over 14 years. He attributes his success, both personally and professionally, to his faith in God.
Captain Michael Fisher can be reached by email Michael.Fisher@fortbendcountytx.gov.
Stella Garcia is the Administrative Assistant for Capt. Fisher.  She can be reached at 281-341-8700 or by email at Stella.Garcia@fortbendcountytx.gov.
For Any Emergency, Dial 911
Non-Emergency Calls For Service, Dial 281-341-4665
Or 281-342-6116 (Option #1 for Dispatch)
PRESS RELEASE Fort Bend County Sheriff's Office SHERIFF ERIC FAGAN MEDIA CONTACT: Michelle…
(FORT BEND COUNTY, TEXAS) – Fort Bend County Sheriff's deputies with assistance of the Gulf Coast…
Tuesday, October 10, 2023
Dial 9-1-1 for emergencies only
Non-emergencies 281-341-4665
To report a crime tip 281-341-4686 281-342-TIPS(8477)