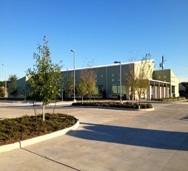 Fort Bend County PINNACLE Senior Center
This facility, which is the County's first LEED certified building, is a joint project between the City of Houston and Fort Bend County. The site is located in the portion of the county that is within the Houston city limits. This facility is a symbol of progress, growth and concern among city and county leadership for the areas aging population. The City of Houston Health and Human Services Department provide Public Health Nursing, Wellness, and Dental Services.
The PINNACLE Center includes:
State-of-the-art Wi-Fi Internet Café
Fitness Center
Fitness Classes – Tai Chi, Weight Training, Zumba, and Yoga
Dance Classes – Line Dancing, Two Stepping and Swing Out
ESL Classes through the Literacy Council of Fort Bend County
Veterans Assistance & Social Service Assistance
Financial Planning on the 1st Friday of each month
Breakfast with a Broker on 3rd Mondays of each month
Podiatry Day on 4th Mondays of each month
Knowledge is POWER DAY
The PINNACLE Center is free for use to Fort Bend and City of Houston residents that are ages 50 and above.
Location
5525#C Hobby Road, Houston, Texas 77053
Phone: 832-471-2760
Hours:
Monday – Friday 7:30 AM – 7:30 PM
Sat. 8:00 AM - 11:00 AM