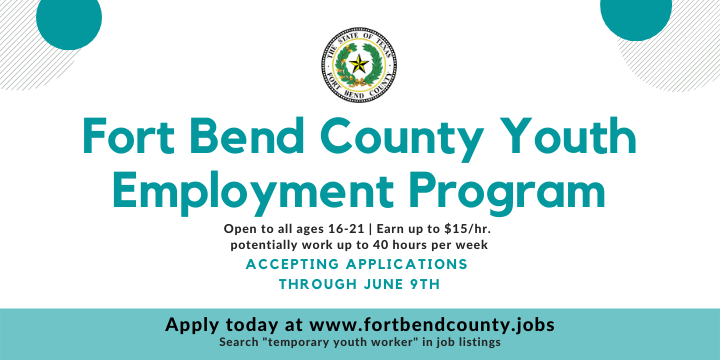 Fort Bend County Youth Employment Program
Calling all residents between the ages of 16-21, Fort Bend County is proud to announce the first Fort Bend County Youth Employment Program. This program will give Youth and Young Adults, ages 16-21, a chance to work in a paid temporary position within our County Departments.  The "Temporary Workers" will be placed in an entry level position to gain relevant government agency knowledge, skills, and work experience that will benefit them in their academic and professional success.
Application Deadline: Wednesday, June 9, 2021
Target dates are June 14, 2021 – August 6, 2021.  The first day of work will be June 14th and will consist of an orientation.
The temporary workers have the opportunity to earn up to $15 per hour for up to 50 hours per week, Monday through Friday.
Apply today at: www.fortbendcounty.jobs