FORT BEND COUNTY JUDGE KP GEORGE BIO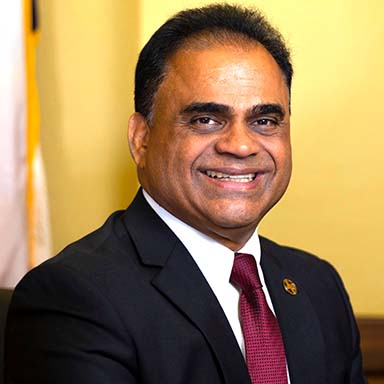 On January 1, 2019, KP George was elected to serve as Fort Bend County Judge.  As the County's top elected official, Judge George presides over the Commissioners Court, which oversees the County's more than 3,000 employees and its nearly 500 million-dollar budget. Additionally, Judge George is the Director of the Office of Homeland Security and Emergency Management.
Since taking office, Judge George has placed a heavy focus on homeland security and emergency management, transparency in government, youth empowerment, and improving the quality of life for citizens while building resiliency through infrastructure improvements.
Judge George is the first Fort Bend County Judge of South Asian descent. Prior to running for public office, George was a board-certified financial planner in Sugar Land. His passion for education and cultivating leadership in children led to his decision to run for the Fort Bend Independent School District School Board, on which he served two terms from 2014 to 2018.
Under the leadership of Judge George, the county has enjoyed many positives since he first took office in 2019. He has successfully managed COVID-19 testing and vaccination efforts, resulting in Fort Bend County being in the top five of the State's vaccination rate. Including overseeing the launch of COVID recovery initiatives with the Utility, Rental and Mortgage Assistance program, Childcare Voucher program, Small Business Emergency Grant program, Small Business Mentorship program, We All Eat Texas, and the Get Hired employer incentives to hire program resulting in over $44 million in grants awarded in Fort Bend County.
Additionally, commercial development is thriving with the expansion of Frito Lay, the Amazon fulfillment center, Biotics Research, and many more.
Faith and family are priorities for Judge George. He is married to Sheeba George, they are the proud parents of three children.
As the executive of one of the fastest-growing and ethnically diverse counties in the United States, Judge George believes in caring for those who are vulnerable, creating a climate of hospitality, and making Fort Bend County a place of opportunity for everyone.