Honorable Frank J. Fraley, Judge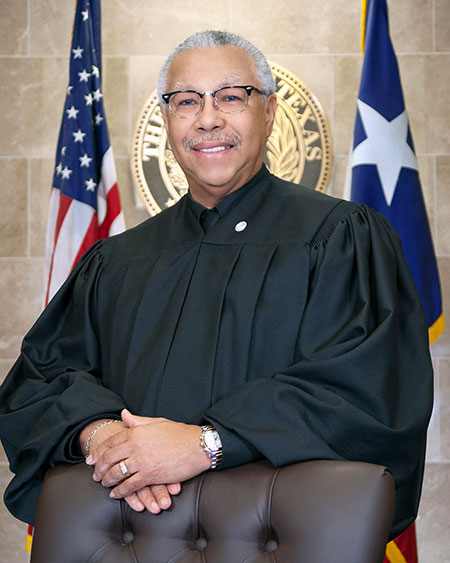 Judge Frank J Fraley graduated from the University of South Florida with a BS in Medical Technology in 1976 and from Thurgood Marshall School of Law with a JD in 1990. Since that time, he has worked as a Supervisor Medical Technologist at the VAMC in Houston, Texas and had a general trial practice in Fort Bend and surrounding counties since 1991. Judge Fraley has practiced in the areas of criminal defense, personal injury, bankruptcy, family law and probate law. Since 2002 Judge Fraley primarily focused on personal injury and criminal defense.
Judge Fraley is married with three sons and three grandchildren. He and his wife faithfully participate in their church's Touchpoint Ministry and board of directors. Judge Fraley is an active participant in Career Day School Activities in Fort Bend and surrounding counties.
"My goal is to give everyone a fair trial. I will read your petitions, motions and briefs. I will listen to your arguments and make a ruling based on my interpretation of the law. I will assist you in getting your disputed facts decided by a judge or jury."
240th Judicial District Court
Mailing Address: 301 Jackson Street, Richmond, TX 77469
Telephone: 281-341-8600

Physical Address: Fort Bend County Justice Center, 1422 Eugene Heimann Circle, Richmond, TX 77469
Courtroom: 3E
View the 240th District Court Rules of Practice.
District Court - 240th | Important Notices
240th District Court & 240th Associate District Court
As of September 1, 2021, the 240th District Court and 240th Associate District Court will no longer be accepting electronic resets by email.
Please be prepared to arrive in person as scheduled with your client on any future settings with the court.
Our Associate Judge Patel will be holding in person criminal dockets on Thursdays at 10:00am and 2:00pm in courtroom 3G. Inmates will be brought over in person for these dockets.
The First Appearance Arraignment Docket on Mondays at 1:00pm will be the only docket that emailed resets will still be accepted on.
All other criminal dockets, you will need to email the court and the prosecutor for approval of an electronic reset in advance of the docket if you or your client have any COVID related symptoms or are ill.
No emailed resets will be accepted unless approved
by court for all 240th criminal dockets except the First
Appearance Arraignment Dockets.
If you have any questions or concerns, please contact the Court Coordinator, Sheila Shifferly by email at Sheila.Shifferly@fortbendcountytx.gov or 240dc@fortbendcountytx.gov.
Thank you,
240th District Court and
240th Associate District Court
NOTICE OF ACCOMMODATIONS FOR AT-RISK INDIVIDUALS
Due to COVID-19 many of you are part of the vulnerable population. Individuals who are over 65 and individuals with serious underlying health conditions, such as high blood pressure, chronic lung disease, obesity, asthma, and those whose immune systems are compromised such as by chemotherapy for cancer or other conditions requiring such therapy are considered to be vulnerable populations. If you are part of this vulnerable population please contact the court at 240dc@fortbendcountytx.gov or by phone at 281-341-8600 to advise the court regarding your need for special accommodations and a specialized docket to ensure your continued safety.
Thank you,
240th District Court Staff
Language Access | Important Notices
Notice of Language Assistance Services
FORT BEND COUNTY COURTS AT LAW AND DISTRICT COURTS ARE COMMITTED TO PROVIDING MEANINGFUL ACCESS TO COURT SERVICES FOR LIMITED ENGLISH PROFICIENT (LEP) PERSONS. LANGUAGE ASSISTANCE SERVICES ARE AVAILABLE AT NO COST TO ANY PERSON ASSOCIATED WITH A COURT PROCEEDING WHO HAS DIFFICULTY COMMUNICATING IN THE ENGLISH LANGUAGE OR WHO NEEDS A DOCUMENT TRANSLATED INTO ENGLISH.
IF YOU NEED ASSISTANCE IN A LANGUAGE OTHER THAN ENGLISH, YOU MAY REQUEST LANGUAGE ASSISTANCE SERVICES FREE OF CHARGE. TO REQUEST INTERPERETATION OR TRANSLATION SERVICED FOR THE FORT BEND COUNTY COURTS, PLEASE VISIT THE LANGUAGE ACCESS WEBPAGE.