District Court - 268th | Important Notices
268th District Court
In compliance with the President's Coronavirus Guidelines for America, Center for Disease Control and Prevention (CDC) Guidance regarding Mass Gatherings or Large Community Events, the Supreme Court of Texas Amended Emergency Order Regarding the COVID-19 State of Disaster issued on January 14, 2021, and out of a concern for public health, safety, and wellbeing of all, the 268th District Court will be holding limited in-person dockets.
All criminal cases will need to be reset in accordance with 268th District Court's policy and procedure. To ensure the health and safety of court staff and the public, the Court has adopted the following procedure:
Electronic resets are being accepted on all pending cases (ON BOND) with a scheduled court appearance. Please contact the court for an electronic reset at 268DC@fortbendcountytx.gov.
No inmates are being brought over from the jail unless deemed essential by the court. If you have an inmate on the court's docket, please email the coordinator to see if they are considered essential.
Prosecutors will be present in the courtroom for any pleas or essential hearings. You will need to contact the District Attorneys office at (281) 341-4460, to have any pleas worked out before court and to notify of any essential hearings. Please note that the court has the option for Video Conference hearings. Please contact the court if this is your preference.
Emailed/Electronic resets are the preferred method.
It is the attorney's responsibility to get their client's signature and email the reset back to the coordinator at 268dc@fortbendcountytx.gov.
All civil hearings will have the option of an in-person hearing or a video conference hearing. Please contact the Court Coordinator for available dates and time at 268dc@fortbendcountytx.gov
Please e-file a notice of hearing for all civil cases with the District Clerk's Office.

Civil Cases:

An Agreed DCO or Scheduling Order is required by the court. Please contact the court for available Trial dates.
Criminal Attorneys: Please distribute the 268th criminal reset within your office to use and please leave the court date blank as the court will make that determination. We just need signatures from defense attorneys and defendants and emailed back to the court.
Video Conference Hearings: To view live stream hearings for the 268th District Court, please click link below:
https://www.fortbendcountytx.gov/government/departments/district-courts/268th-district-court/live-streaming/
NOTICE OF ACCOMMODATIONS FOR AT-RISK INDIVIDUALS
Due to COVID-19 many individuals are considered "at-risk" members of the vulnerable population. These members include, but are not limited to individuals who are over 65 and individuals with serious underlying health conditions, such as high blood pressure, chronic lung disease, obesity, asthma, and those whose immune systems are compromised such as by chemotherapy for cancer or other conditions. If you believe you are a member of this vulnerable population please contact the court coordinator Elizabeth Adelekan via email at Elizabeth.Adelekan@fortbendcountytx.gov or call 281-341-8610 – *provide your full name, cause number and contact information* – to advise the court regarding your need for special accommodations and a specialized docket to ensure your continued safety.
If you have any questions, please contact the court coordinator,
Elizabeth Adelekan at (281) 341-8610 or email: 268DC@fortbendcountytx.gov
Honorable O'Neil Williams, Judge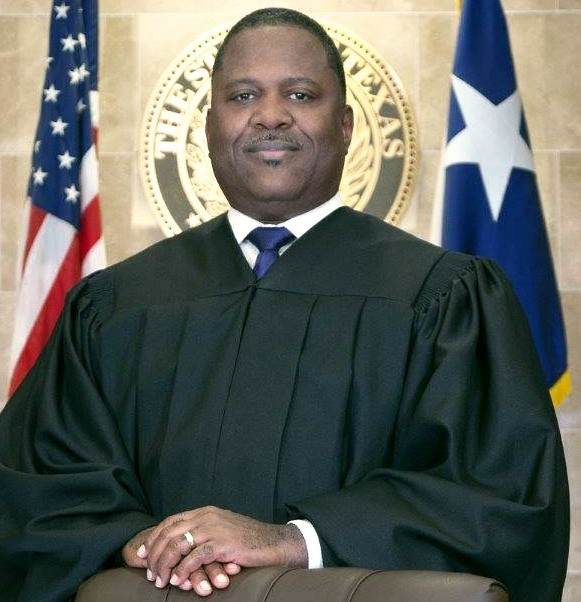 Court Staff
Court Coordinator: Elizabeth Adelekan
             Email:  268dc@fortbendcountytx.gov
Court Reporter: Marisol Ramos
             Email: marisol.ramos@fortbendcountytx.gov
Bailiff: Alex Holcombe
Associate Judge: Honorable Lisa M. Gonzalez
Associate Court Coordinator: Dee Ann Sturdivant
             Email: DeeAnn.Sturdivant@fortbendcountytx.gov
Bailiff: Paul S. Poullard
              Email: Paul.Poullard@fortbendcountytx.gov
Subpages:
Language Access | Important Notices
Notice of Language Assistance Services
FORT BEND COUNTY COURTS AT LAW AND DISTRICT COURTS ARE COMMITTED TO PROVIDING MEANINGFUL ACCESS TO COURT SERVICES FOR LIMITED ENGLISH PROFICIENT (LEP) PERSONS. LANGUAGE ASSISTANCE SERVICES ARE AVAILABLE AT NO COST TO ANY PERSON ASSOCIATED WITH A COURT PROCEEDING WHO HAS DIFFICULTY COMMUNICATING IN THE ENGLISH LANGUAGE OR WHO NEEDS A DOCUMENT TRANSLATED INTO ENGLISH.
IF YOU NEED ASSISTANCE IN A LANGUAGE OTHER THAN ENGLISH, YOU MAY REQUEST LANGUAGE ASSISTANCE SERVICES FREE OF CHARGE. TO REQUEST INTERPERETATION OR TRANSLATION SERVICED FOR THE FORT BEND COUNTY COURTS, PLEASE VISIT THE LANGUAGE ACCESS WEBPAGE.