Honorable Kali Morgan, Judge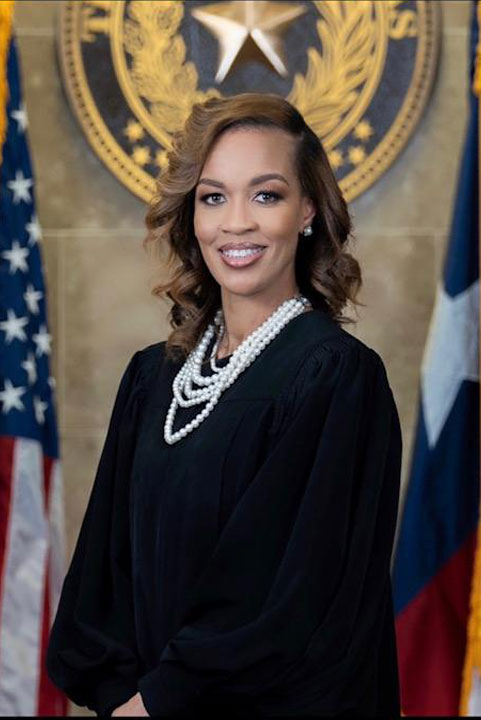 Judge Kali Lyles Morgan was elected to serve as the Presiding Judge of the 505th Family District Court on November 3, 2020. A native Houstonian, Judge Morgan received her undergraduate degree from the University of Houston – Central Campus, and her law degree from the Thurgood Marshall School of Law at Texas Southern University.
Judge Morgan has dedicated her career to public service. Prior to taking the bench, she was employed by the State of Texas as a Regional Attorney for the Department of Family and Protective Services, and as an Assistant Disciplinary Counsel for the State Bar of Texas. Prior to her public service, Judge Morgan managed the Law Office of Kali R. Morgan where her practice was devoted exclusively to family law matters.
Judge Morgan firmly believes that justice should be blind to social, racial, and political differences. In her courtroom, every person is treated with respect, every voice is heard, and every case receives the time and attention that it deserves in the most efficient way possible. Judge Morgan strives to achieve the best possible outcomes for every family in every case.
In her spare time, Judge Morgan enjoys spending time with her family, participating in community service efforts, and being an active member of Alpha Kappa Alpha Sorority, Inc., and Jack and Jill of America, Inc. 
Language Access | Important Notices
Notice of Language Assistance Services
FORT BEND COUNTY COURTS AT LAW AND DISTRICT COURTS ARE COMMITTED TO PROVIDING MEANINGFUL ACCESS TO COURT SERVICES FOR LIMITED ENGLISH PROFICIENT (LEP) PERSONS. LANGUAGE ASSISTANCE SERVICES ARE AVAILABLE AT NO COST TO ANY PERSON ASSOCIATED WITH A COURT PROCEEDING WHO HAS DIFFICULTY COMMUNICATING IN THE ENGLISH LANGUAGE OR WHO NEEDS A DOCUMENT TRANSLATED INTO ENGLISH.
IF YOU NEED ASSISTANCE IN A LANGUAGE OTHER THAN ENGLISH, YOU MAY REQUEST LANGUAGE ASSISTANCE SERVICES FREE OF CHARGE. TO REQUEST INTERPERETATION OR TRANSLATION SERVICED FOR THE FORT BEND COUNTY COURTS, PLEASE VISIT THE LANGUAGE ACCESS WEBPAGE.