Fort Bend County Behavioral Health Services (BHS) was established by the Fort Bend County Council of Judges in October 2010. The department was restructured in December of 2018 to report to Fort Bend County Commissioners Court. Dr. Almeida, a licensed psychologist, is the founding director of the department.
Our staff include licensed psychologists and a psychological associate, a developmental psychologist, a licensed professional counselor, case managers, project/grant management staff, jail diversion coordinator as well as administrative support staff.
The department was created to assist in addressing the needs of those with mental illness who come into contact with our justice system.  Over the years, Behavioral Health Services has expanded to begin to address those in the community who are high-risk of involvement in the justice system. The department also works with the youngest victims of abuse and neglect in an attempt to heal trauma and support family reunification when possible. Working collaboratively with the justice system, health and human services, behavioral health providers, county offices, schools, and the community, BHS continues to increase the awareness of the needs of our most vulnerable populations and guide systems to work collaboratively to better address those.
Mission
Fort Bend County Behavioral Health Services works to increase awareness, services and supports to address the complex needs of persons with behavioral health disorders involved in the legal system or at risk of involvement.
 Vision
Collaboratively work with the courts, criminal justice, other county departments, behavioral health providers and community organizations to develop needed services to support at risk individuals with behavioral health disorders. Our goals are to foster resiliency, reduce recidivism, support reintegration, recovery and family reunification.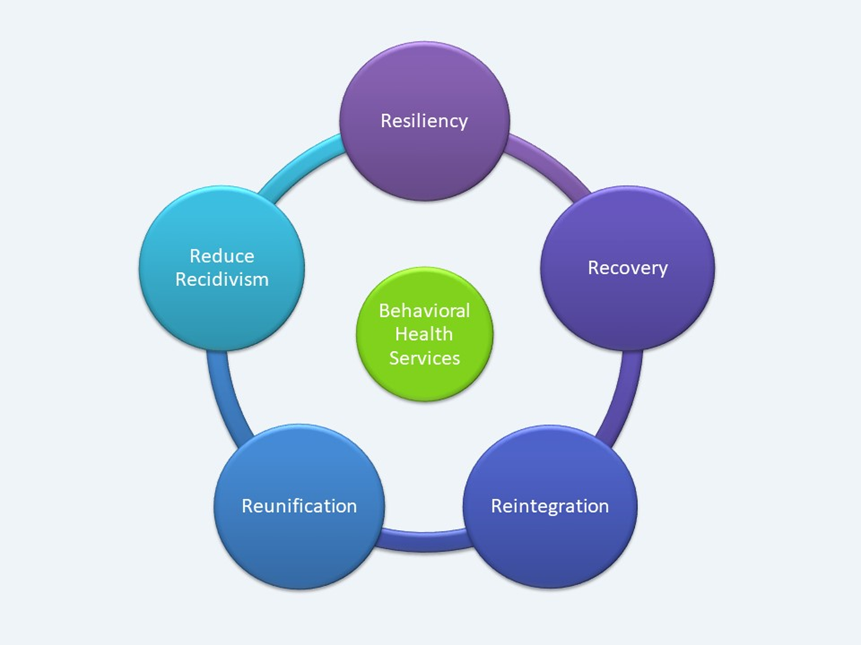 Our work focuses on:
 Fostering and building resiliency among persons with behavioral health disorders.
Working collaboratively across systems to reduce the re-incarceration of persons
with mental illness by providing needed support and identifying gaps in services
as well as systems.
           Supporting and rebuilding a healthy parent-child relationship.
 Supporting the recovery of persons with behavioral health disorders..
 Assisting persons with services to help integrate into the community.