Laura Richard was sworn into office as the Fort Bend County Clerk January 1, 2015 and subsequently in 2019 and 2023. Prior to being County Clerk, she spent a long career working for a technology company managing multi-million-dollar budgets and staff located in multiple countries around the world. After "retiring" from the technology sector, she spent a number of years in various development and executive director positions for Fort Bend non-profit organizations. On the death of her husband, Jim Richard, she was unanimously appointed by Commissioners Court to fill his vacancy of Justice of the Peace, Precinct 4. Laura and her family have made Fort Bend County their home for more than 30 years.
The Honorable Laura Richard received the 2023 Public Official of the Year Award from the University of Houston Master of Public Administration Program. Her office has won the coveted Five Star Service Award from the Texas Department of State Health Services Vital Statistics division each year of her tenure. Clerk Richard is a board member for Parks Youth Ranch, a member of the Urban Recorders Alliance, the past chair of the Fort Bend Bail Bond Board, a life member of the Fort Bend County Fair Association, a member of the legislative committee for the County & District Clerks Association, and a member of the Property Records Industry Association (PRIA). 
While in office, Clerk Richard has focused on enhancing efficiency, accuracy, and providing expanded services to the public for all of life's important filings. 
FORT BEND COUNTY CLERK'S MISSION STATEMENT
To provide excellent customer service through skilled personnel and leading edge technology to the citizens of Fort Bend County, the judges, attorneys and related agencies while being vigilant and efficient with tax payer dollars.
COUNTY CLERK
DUTIES
Serves as clerk and custodian of records for the Commissioners Court, Constitutional County Court, and Statutory County Courts.
Acts as a recorder, local registrar, and custodian of important public records, including all bonds, deeds, birth and death certificates, assumed names (DBA), and livestock brands, ensuring that records are maintained in a secure, archival manner.
Issues marriage licenses.
For more specific information such as budget and yearly goals related to the Fort Bend County Clerk, please see page 98 of the ANNUAL OPERATING BUDGET FOR FISCAL YEAR 2021 FORT BEND COUNTY.
2022 County Clerk State of the County presentation available HERE .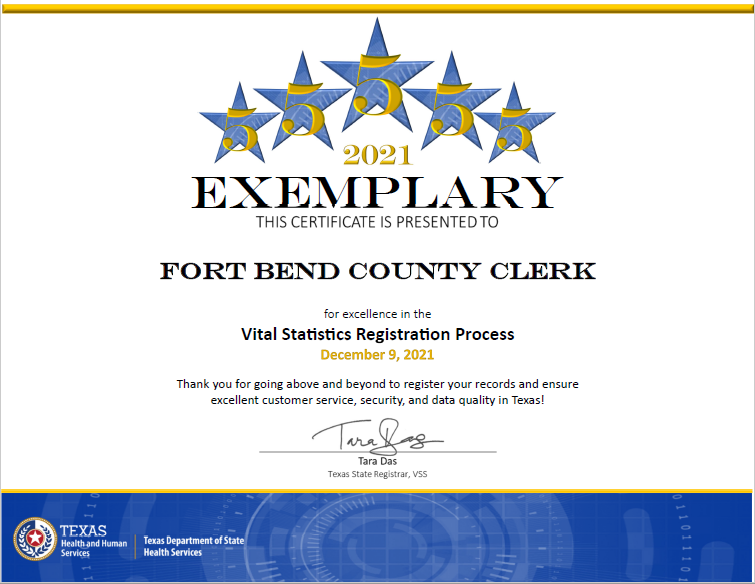 The Fort Bend County Clerk's Office received the 2021 Five Star Exemplary Award from the Texas Department of State Health Services Vital Statistics Section. The award is given in recognition for excellence in vital records registration and customer service.
COUNTY CLERK ADVANCEMENTS
 Enhanced Customer Service
Opened new Sienna Annex for east Fort Bend
Extended annex office hours
Implemented new user-friendly records search function
Digitized over two million pages of probate and civil files
Updated easy-to-read online fee schedules
Enabled E-commerce for Official Public Records
VitalChek online services for the safety of customers
Introduced the Property Fraud Alert program
Enhanced Efficiency
Established electronic workflow between clerk and court
Optimized hundreds of internal processes
Developed new training program for new hires
Increased e-recording to save time
Reorganized staff for increased efficiency 
Technology implemented to support remote hearings
 Legislative Updates
Instituted criminal e-Filing prior to mandate
Trained attorneys and District Attorney's Office on new processes
Implemented electronic signatures
Supported the addition of two new courts
County Clerk Statistics