Important Notice
THIRTEENTH AMENDED NOTICE REGARDING COUNTY COURT AT LAW NO. 1 COURT PROCEDURES DURING THE CORONAVIRUS COVID-19 EMERGENCY
Last Updated: January 7, 2022
In compliance with the 44th Emergency Order issued by the Texas Supreme Court, and the Order of the Local Administrative Judge R. O'Neil Williams, County Court at Law No. 1 will continue to use all reasonable efforts to conduct proceedings remotely. Thus, most hearings will continue via Zoom.  These hearings include but are not limited to criminal plea dockets, criminal motions dockets, criminal status dockets, uncontested probate dockets, and all civil motion dockets.  You will find the Court's Video Conferencing Policy and Procedures under the Documents & Form tab of County Court at Law No. 1's website.
CRIMINAL RESET PROCEDURE
All Criminal Arraignment and Non-Issue Dockets shall be handled through an electronic e-filed reset.  Defense attorneys and criminal defendants NEED NOT APPEAR at these dockets. 
The blank reset form for criminal cases may be downloaded from the Court's website under the Documents and Forms tab.  The reset must be dated and signed by both the Attorney and Defendant (or with permission of the Defendant) and e-filed (with electronic notice to the Fort Bend County District Attorney's Office, NOT the Court) no later than 5:00 p.m. the day of the hearing/docket, but no earlier than seven (7) days prior to docket call. Failure to submit a reset timely may subject the Defendant to a bond forfeiture or a failure to appear. Regina Green, the Court Coordinator will have fourteen (14) days from the docket date to return a fully executed reset to all parties by email. The electronic reset ensures compliance with all Texas Supreme Court Emergency Orders and reduces the number of people within the courthouse. Criminal resets will NOT be accepted in the courtroom or via email. The Court requires most business be conducted remotely, if possible. If you are unable to conduct business remotely, please contact the Court Coordinator for accommodations.
If the Defendant is representing themselves pro se, they will need to follow the above procedure, with the exception of the attorney signing the reset form.  Defendants may utilize the law library (located on the 2nd floor for the Justice Center) to complete the reset form and e-file.
PLEASE REFRAIN FROM SENDING MULTIPLE EMAILS TO THE COURT COORDINATOR.  Resets will be processed on a first come first serves basis, and a signed copy will be emailed to you for your records within 14 days. Please do not include the Court in the e-file notification nor email the Court that a reset has been e-filed. E-filed resets are sent directly to the Court's reset queue for processing.
CRIMINAL PLEAS
If you intend to plea your client to the alleged charges, you must submit all electronic plea paperwork to the Court by 2:00 p.m., two (2) business days prior to the day of your scheduled plea. Failure to submit the paperwork will result in your hearing being rescheduled.  All pleas will be conducted remotely via Zoom; however, you and your client will need to appear in-person in the attorney-client meeting room attached to the courtroom.  You and your client will connect to the Zoom hearing using the Court's equipment.  Once the plea is completed, the Court's bailiff will take the defendant's thumb print on the Judgment and Sentence.  All other participants MAY connect remotely.
The Court has adopted the following procedure for electronic pleas:
ADA and Defense Counsel arrange a workflow process on getting signature/time credit/court cost for the plea agreement;

The plea agreement is emailed by the ADA to the Court Coordinator in a legible PDF format by 2:00 p.m., two (2) business days prior to the day of your scheduled plea;

At the scheduled plea, the Judge will swear the Defendant to the plea paperwork;

Signature dates on the plea paperwork will reflect the date of the plea, not the date counsel may have it executed; and

All paperwork must be legible or the plea will be rescheduled.  Please keep in mind that each time paperwork is scanned the document is degraded, resulting in illegible paperwork that is not suitable for filing.
CCL1 MASK POLICY
Per the Office of Court Administrations Best Practices for All Court Proceedings During COVID-19 Pandemic (Effective May 2021), "Cloth face coverings, at a minimum, should be encouraged of unvaccinated court participants or individuals planning to enter courtrooms or court-related offices while in the courthouse.  Participants or individuals who are fully vaccinated are not required to wear a face covering."
All participants and individuals entering County Court at Law No. 1 are encouraged but not required to wear a face covering.
MISCELLANEOUS
If you wish to view a live stream of the Court's Zoom hearings, you may subscribe to the County Court at Law No. 1's YouTube Channel titled: Fort Bend County Court at Law No. 1, channel ID UCH78cuOArJw7qkjtun3p1VQ
Per guidance from the Office of Court Administration, this channel adheres to the Open Courts provision of the Texas Constitution.
We ask that the public be patient and understanding for any inconvenience these changes may cause.  The Court is following all governing guidance.  These measures are in place for the health and safety of the public and court personnel. Continue to look to the Court's website for further details and information.
If you have questions or concerns, please contact Regina G. Green, Court Coordinator, at (832) 471-2822 or via email at regina.green@fortbendcountytx.gov, and Anita Ayala, Probate Auditor, at (281) 633-7413 or via email at anita.ayala@fortbendcountytx.gov.
NOTICE OF ACCOMMODATIONS FOR AT-RISK INDIVIDUALS
DUE TO COVID-19 MANY OF YOU ARE PART OF THE VULNERABLE POPULATION.  INDIVIDUALS WHO ARE OVER 65 AND INDIVIDUALS WITH SERIOUS UNDERLYING HEALTH CONDITIONS, SUCH AS HIGH BLOOD PRESSURE, CHRONIC LUNG DISEASE, OBESITY, ASTHMA, AND THOSE WHOSE IMMUNE SYSTEMS ARE COMPROMISED SUCH AS BY CHEMOTHERAPY FOR CANCER OR OTHER  CONDITIONS REQUIRING SUCH THERAPY ARE CONSIDERED TO BE VULNERABLE POPULATIONS.  IF YOU ARE PART OF THIS VULNERABLE POPULATION PLEASE CONTACT THE COURT AT regina.green@fortbendcountytx.gov or (281) 633-7415 TO ADVISE THE COURT REGARDING YOUR NEED FOR SPECIAL ACCOMMODATIONS AND A SPECIALIZED DOCKET TO ENSURE YOUR CONTINUED SAFETY.
Christopher G. Morales, Judge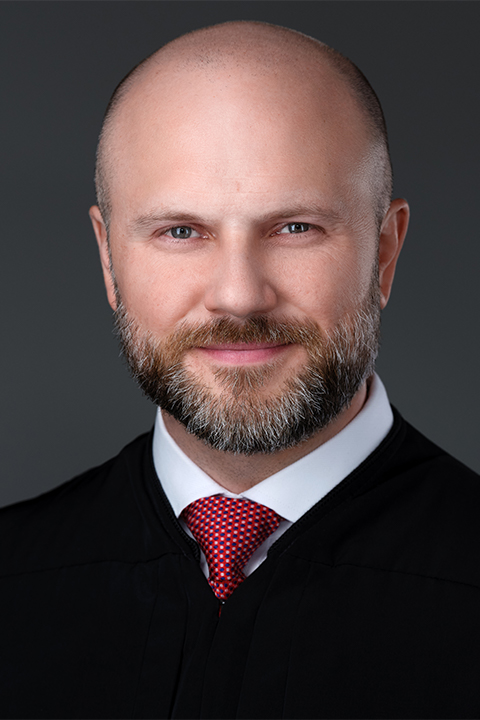 Christopher Morales was elected as Judge of County Court at Law No. 1, in 2014. As Judge of County Court at Law No. 1, he manages a multitude of cases that impact the daily life of every citizen in Fort Bend County. Judge Morales oversees such matters as probate and guardianship cases, juvenile cases, civil litigation cases up to $250,000, condemnation proceedings, civil mental health commitments, and criminal misdemeanor cases. Most importantly, Judge Morales also oversees Fort Bend County's only misdemeanor Criminal Mental Health Court, a program designed to reduce recidivism rates among defendants with mental illness.
Office Address
Fort Bend County Justice Center
1422 Eugene Heimann Circle, Courtroom 2C
Richmond, TX. 77469

Mailing Address
County Court at Law No.1
301 Jackson Street
Richmond, TX. 77469

Telephone: 281-633-7415
Fax: 832 471-1861

Hours
Monday - Friday
8:00 AM - Noon; 1:00 PM - 5:00 PM
NOTICE OF LANGUAGE | Important Notices
ASSISTANCE SERVICES
FORT BEND COUNTY COURTS AT LAW AND DISTRICT COURTS ARE COMMITTED TO PROVIDING MEANINGFUL ACCESS TO COURT SERVICES FOR LIMITED ENGLISH PROFICIENT (LEP) PERSONS. LANGUAGE ASSISTANCE SERVICES ARE AVAILABLE AT NO COST TO ANY PERSON ASSOCIATED WITH A COURT PROCEEDING WHO HAS DIFFICULTY COMMUNICATING IN THE ENGLISH LANGUAGE OR WHO NEEDS A DOCUMENT TRANSLATED INTO ENGLISH.
IF YOU NEED ASSISTANCE IN A LANGUAGE OTHER THAN ENGLISH, YOU MAY REQUEST LANGUAGE ASSISTANCE SERVICES FREE OF CHARGE. TO REQUEST INTERPERETATION OR TRANSLATION SERVICED FOR THE FORT BEND COUNTY COURTS, PLEASE VISIT THE
LANGUAGE ACCESS
WEBPAGE.