County Court At Law 1 | Important Notices
THIRTEENTH AMENDED NOTICE REGARDING COUNTY COURT AT LAW NO. 1 COURT PROCEDURES DURING THE CORONAVIRUS COVID-19 EMERGENCY
Last Updated: January 4, 2023
In compliance with the 59th Emergency Order issued by the Texas Supreme Court, and Orders issued by the Local Administrative Judge, County Court at Law No. 1 will continue to conduct certain proceedings through remote video conferencing technology (i.e. Zoom) that help assist with the Court's backlog. These hearings include but are not limited to Uncontested Probate Dockets, Civil Motions Docket, and Criminal Status Dockets. You shall receive notice of your remote video conferencing docket on the Court issued docket control order, email or reset form. You will find the Court's Video Conferencing Policy and Procedures under the Documents & Form tab of County Court at Law No. 1's website.
CRIMINAL DOCKETS
Effective January 20, 2023, Friday morning Criminal Arraignment Dockets shall return to IN-­PERSON HEARINGS. All Defendants and Attorneys are expected to appear in-person at 8:30 a.m., as per the Defendant's bonding paperwork.
At the Criminal Arraignment Docket, the Court will implement a Criminal Docket Control Order ("DCO") in all criminal cases scheduled during that docket. All dates applicable to the Defendant's case will be entered on the DCO. The Court's Electronic Reset Form will NO longer be utilized in DCO entered cases. The Court's Electronic Reset Form will NO longer be utilized in all criminal cases after April 3, 2023.
CRIMINAL PLEAS
If an attorney wishes to plea a Defendant on a date not listed on the DCO, please contact the Court Coordinator. If the Defendant fails to finally dispose of the matter at a plea docket, the DCO shall remain in place and the Defendant is expected to appear at all DCO scheduled hearings. The Defendants failure to appear at a DCO scheduled hearing may result in the issuing of a capias and/or forfeiting of the Defendant's bond. Defense Counsel is expected to have all paperwork completed prior to the plea date but may bring the paperwork with them to the plea docket. Failure to complete the paperwork prior to the plea docket shall result in the case being removed from the plea docket.
ZOOM
If you wish to view a live stream of the Court's Zoom hearings, you may subscribe to the County Court at Law No. 1 's YouTube Channel or you may find the channel listed as: @fortbendcountycourtatlawno1.
Per guidance from the Office of Court Administration, this channel adheres to the Open Courts provision of the Texas Constitution.
We ask that the public be patient and understanding for any inconvenience these changes may cause.
If you have questions or concerns, please contact Patricia Pepperman, Court Coordinator, at (832) 471-2822 or via email at Patricia.Pepperman@fortbendcountytx.gov, and Anita Ayala, Probate Auditor, at (281) 633-7413 or via email at anita.ayala@fortbendcountytx.gov.
Christopher G. Morales, Judge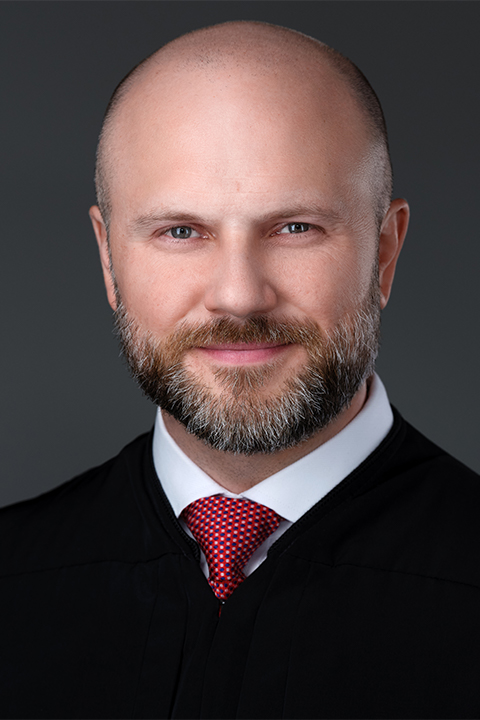 Christopher Morales was elected as Judge of County Court at Law No. 1, in 2014. As Judge of County Court at Law No. 1, he manages a multitude of cases that impact the daily life of every citizen in Fort Bend County. Judge Morales oversees such matters as probate and guardianship cases, juvenile cases, civil litigation cases up to $250,000, condemnation proceedings, civil mental health commitments, and criminal misdemeanor cases. Most importantly, Judge Morales also oversees Fort Bend County's only misdemeanor Criminal Mental Health Court, a program designed to reduce recidivism rates among defendants with mental illness.
Office Address
Fort Bend County Justice Center
1422 Eugene Heimann Circle, Courtroom 2C
Richmond, TX. 77469

Mailing Address
County Court at Law No.1
301 Jackson Street
Richmond, TX. 77469

Telephone: 281-633-7415
Fax: 832 471-1861

Hours
Monday - Friday
8:00 AM - Noon; 1:00 PM - 5:00 PM
Language Access | Important Notices
Notice of Language Assistance Services
FORT BEND COUNTY COURTS AT LAW AND DISTRICT COURTS ARE COMMITTED TO PROVIDING MEANINGFUL ACCESS TO COURT SERVICES FOR LIMITED ENGLISH PROFICIENT (LEP) PERSONS. LANGUAGE ASSISTANCE SERVICES ARE AVAILABLE AT NO COST TO ANY PERSON ASSOCIATED WITH A COURT PROCEEDING WHO HAS DIFFICULTY COMMUNICATING IN THE ENGLISH LANGUAGE OR WHO NEEDS A DOCUMENT TRANSLATED INTO ENGLISH.
IF YOU NEED ASSISTANCE IN A LANGUAGE OTHER THAN ENGLISH, YOU MAY REQUEST LANGUAGE ASSISTANCE SERVICES FREE OF CHARGE. TO REQUEST INTERPERETATION OR TRANSLATION SERVICED FOR THE FORT BEND COUNTY COURTS, PLEASE VISIT THE LANGUAGE ACCESS WEBPAGE.