Honorable Toni M. Wallace, Judge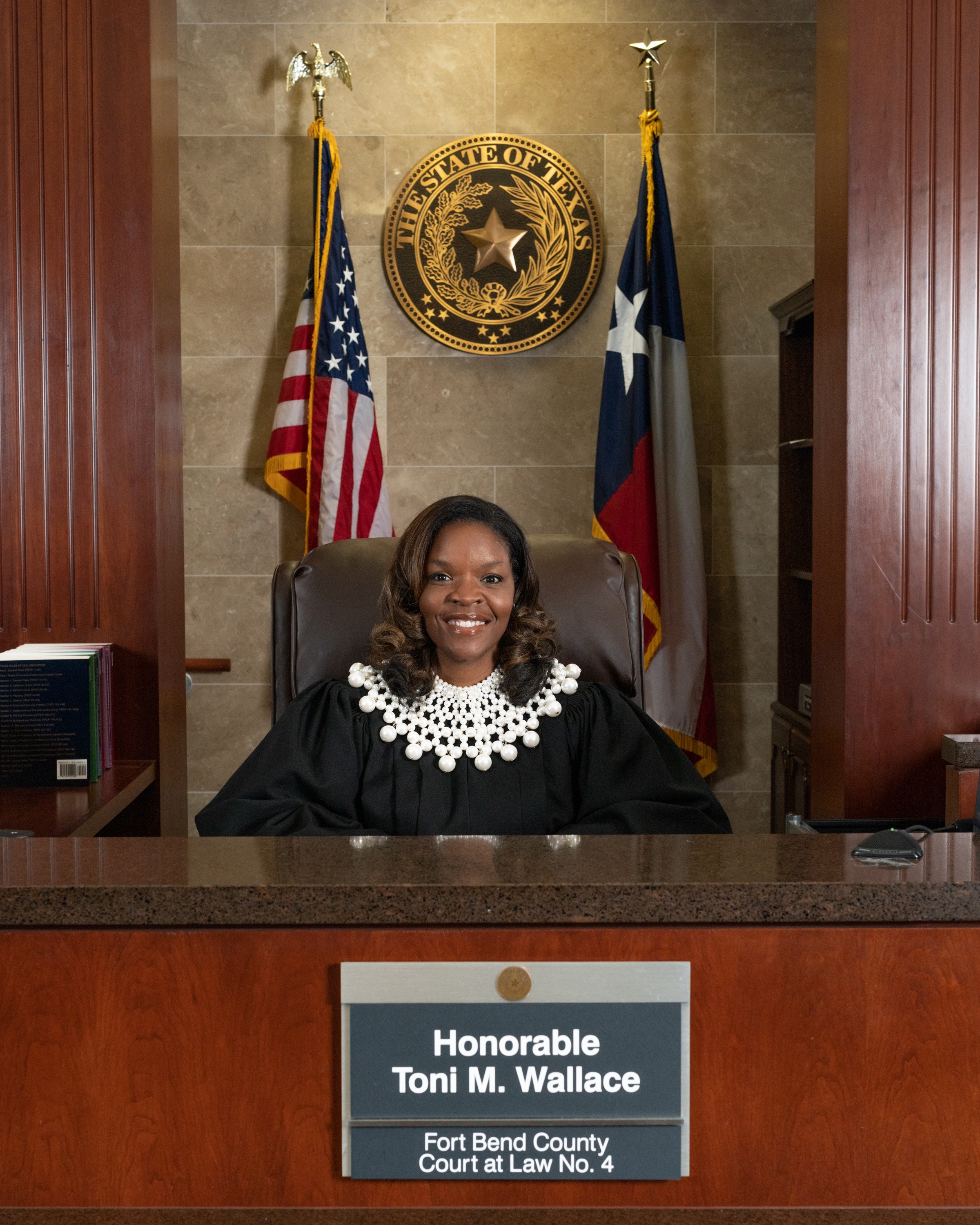 The Honorable Toni M. Wallace is the Presiding Judge of County Court at Law Number Four in Fort Bend County, Texas. She recently served a 2-year term as the Administrative Judge for all the County Courts in Fort Bend County. And her court is the home of CORE, the Girl's Court for Juveniles in Fort Bend County, which serves juvenile girls who have been identified as being at-risk for or victims of human trafficking. Judge Wallace believes that her court belongs to the people of Fort Bend County and enjoys the privilege of serving Fort Bend County.
 
Judge Wallace began her legal career as a defense attorney, practicing in civil courts all over the state. She served as a prosecutor in the Fort Bend County District Attorney's Office for 5 years. Judge Wallace made history in 2016 when she became the first African American Female Judge ever appointed to a county court in Fort Bend County. She was the inaugural judge for County Court at Law Number Five. In 2018, she made history again when she was among the first African Americans ever elected to a court in Fort Bend County. Judge Wallace recognizes the significance of her accomplishments and strives every day to serve with honor, integrity, wisdom, and fairness, all while following the letter of the law.
 
Judge Wallace is a proud resident of Fort Bend County, and a graduate of Dulles High School. She earned a Bachelor of Journalism from The University of Texas and her JD from South Texas College of Law Houston. When she's not presiding in her courtroom, she enjoys a good book, serving her community, and spending time with her family. As a breast cancer survivor warrior, she celebrates the blessing of her 20-year marriage to Rev. Quinton Wallace and their 3 amazing children.
Office Address
Fort Bend County Justice Center
1422 Eugene Heimann Circle, Courtroom 2E
Richmond, TX 77469

Mailing Address
County Court at Law No.4
301 Jackson Street
Richmond, TX 77469

Telephone
281-238-1995
Language Access | Important Notices
Notice of Language Assistance Services
FORT BEND COUNTY COURTS AT LAW AND DISTRICT COURTS ARE COMMITTED TO PROVIDING MEANINGFUL ACCESS TO COURT SERVICES FOR LIMITED ENGLISH PROFICIENT (LEP) PERSONS. LANGUAGE ASSISTANCE SERVICES ARE AVAILABLE AT NO COST TO ANY PERSON ASSOCIATED WITH A COURT PROCEEDING WHO HAS DIFFICULTY COMMUNICATING IN THE ENGLISH LANGUAGE OR WHO NEEDS A DOCUMENT TRANSLATED INTO ENGLISH.
IF YOU NEED ASSISTANCE IN A LANGUAGE OTHER THAN ENGLISH, YOU MAY REQUEST LANGUAGE ASSISTANCE SERVICES FREE OF CHARGE. TO REQUEST INTERPERETATION OR TRANSLATION SERVICED FOR THE FORT BEND COUNTY COURTS, PLEASE VISIT THE LANGUAGE ACCESS WEBPAGE.