---
COUNTY COURT AT LAW NO. 5
I M P O R T A N T   N O T I C E   (updated 9-2-2022)
All persons entering the Courtroom are encouraged to wear a Mask or Face Covering.
If you have a fever, please do not come to the courthouse.
Alert your attorney or the Court Coordinator at least 1 day prior to your court date.
REMOTE | VIDEOCONFERENCE
•    Probate / Guardianship, Emergency or essential hearings will continue to be held via remote via video-conference through Zoom.  You may view a live stream any of these hearings at: 
https://www.youtube.com/channel/UC0Ie8ZYRNbAqJx6PsePSD9g?disable_polymer=true
•    Per guidance from the Office of Court Administration, this channel adheres to the open courts provision of the Texas Constitution.
Disclaimer:  Use video conferencing sites at your own risk.  Please be aware that some video conferencing sites have a security risk and face issues with disclosure of private information.
NOTICE OF ACCOMMODATIONS – FOR AT-RISK INDIVIDUALS
Due to COVID-19 many of you are part of the vulnerable population.  Individuals who are over 65 and individuals with serious underlying health conditions, such as high blood pressure, chronic lung disease, obesity, asthma, and those whose immune systems are compromised such as by chemotherapy for cancer or other conditions requiring such therapy, are considered to be vulnerable population.
If you are part of this vulnerable population, please contact Natalya Crawford the Court's Admin Clerk at: 281-238-3270; or e-mail the Court Coordinator at: Jackie.Kermode@fortbendcountytx.gov to advise the Court regarding your need for special accommodations and a specialized docket to ensure your continued safety.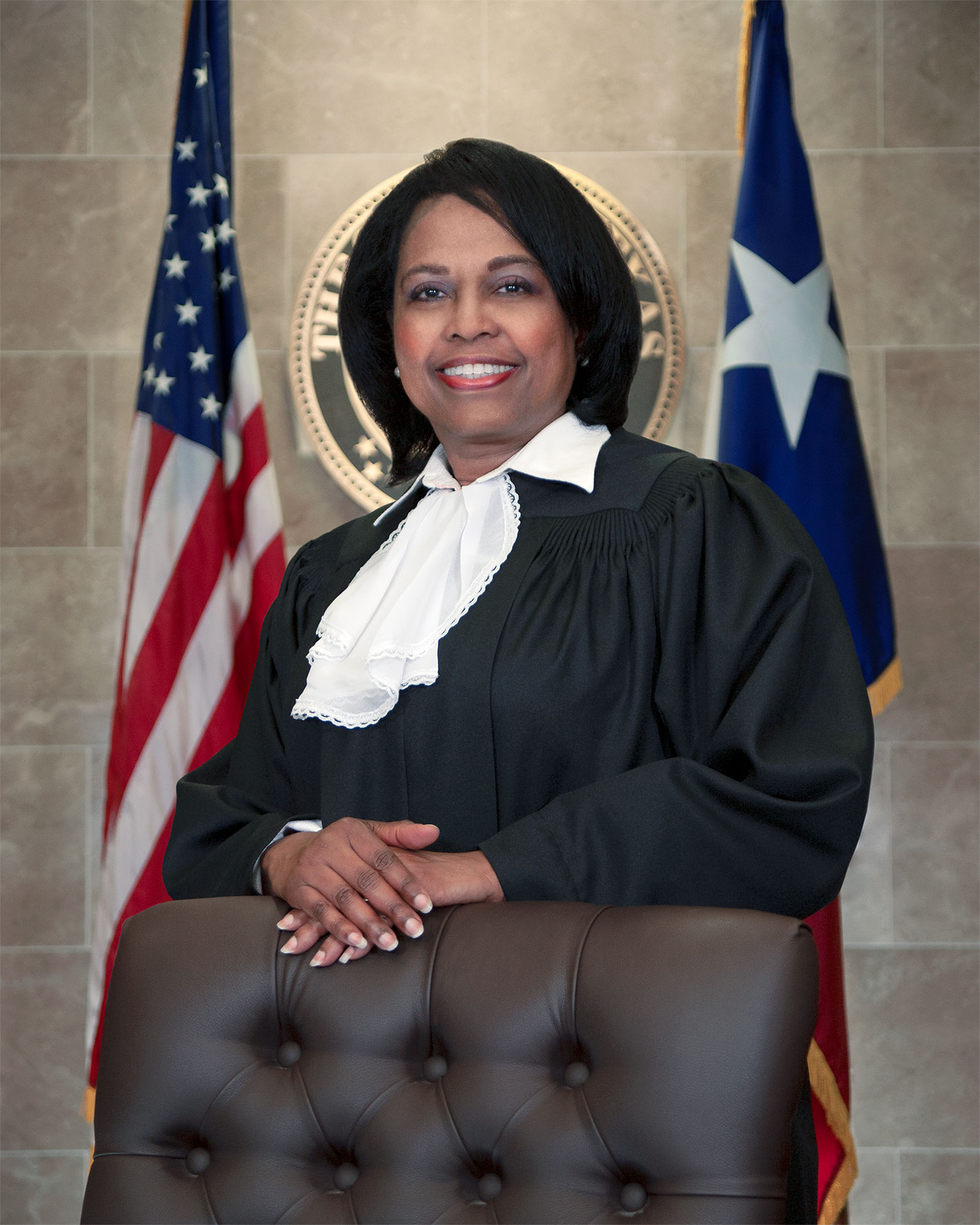 Honorable Teana V. Watson
Teana Watson was elected Judge of County Court at Law #5 in 2018.  Judge Watson brings to the bench a wealth of legal experience having served as former Chief Juvenile Prosecutor for Fort Bend County, a former municipal judge for the City of Stafford, and an Assistant District Attorney for Fort Bend County.  Prior to being elected to CCL5, she was the principal attorney of TV Watson Law PLLC, a full service law firm.  She is the current Chair of the Fort Bend County Juvenile Board and presides over the county's misdemeanor drug court program.  This treatment-based program allows misdemeanor drug offenders an opportunity to have their cases dismissed and expunged.  Additionally, Judge Watson is a member of the National Council of Juvenile and Family Court Judges and a former member of the Fort Bend County Bail Bonds Board.  Judge Watson is a native Houstonian, graduate of Fisk University (B.A.), and Syracuse College of Law (J.D.).  Judge Watson has resided in the Fort Bend County community for over 30 years. 
Office Address
Fort Bend County Justice Center
1422 Eugene Heimann Circle, Courtroom 1B
Richmond, TX. 77469

Mailing Address
County Court at Law No.5
301 Jackson Street
Richmond, TX. 77469
Main Telephone Line: 281-238-3270
Fax: 832-471-1848
Hours: Monday - Friday
8:00 AM - Noon, 1:00 PM - 5:00 PM
For a complete listing of staff for the Fort Bend County Court at Law No. 5, please click here.
ATTENTION Court Appointed Attorneys – effective immediately:
The Court Court at Law Judges approved the use of a new electronic Attorney Fee/Expense Claim Form, located at: Court Appointed Attorney's link for the submission of court-ordered attorney fees and expenses for misdemeanor cases.
NOTICE OF LANGUAGE | Important Notices
ASSISTANCE SERVICES
FORT BEND COUNTY COURTS AT LAW AND DISTRICT COURTS ARE COMMITTED TO PROVIDING MEANINGFUL ACCESS TO COURT SERVICES FOR LIMITED ENGLISH PROFICIENT (LEP) PERSONS. LANGUAGE ASSISTANCE SERVICES ARE AVAILABLE AT NO COST TO ANY PERSON ASSOCIATED WITH A COURT PROCEEDING WHO HAS DIFFICULTY COMMUNICATING IN THE ENGLISH LANGUAGE OR WHO NEEDS A DOCUMENT TRANSLATED INTO ENGLISH.
IF YOU NEED ASSISTANCE IN A LANGUAGE OTHER THAN ENGLISH, YOU MAY REQUEST LANGUAGE ASSISTANCE SERVICES FREE OF CHARGE. TO REQUEST INTERPERETATION OR TRANSLATION SERVICED FOR THE FORT BEND COUNTY COURTS, PLEASE VISIT THE
LANGUAGE ACCESS
WEBPAGE.