Honorable Juli Mathew, Judge
Important Notice
COUNTY COURT AT LAW NO. 3
(Effective April 1, 2021)
In compliance with the local, state, and federal response to COVID-19 (Coronavirus) and in consideration of protecting the health of our community, County Court at Law No. 3 will operate under the following procedures.
A limited number of participants will be permitted in the courtroom. Any court participants will be screened in accordance with CDC Guidelines. If you are feeling sick, do not come to the courthouse. Instead, contact the Court Coordinator to receive further instructions. Remote participation is encouraged.
CRIMINAL: Resets are Required for all Misdemeanor Cases.
Defendant's with Attorney
The Court Coordinator will send out a group e-mail to all Attorneys with a blank reset form. If you are newly hired, please file a Letter of Representation with the clerk's office so that you are connected to the case.
The signed Electronic Reset MUST be returned to the Court no later than the day before the Defendant's scheduled court date.
The Court will allow Defendant's Attorney to sign the Reset on the Defendant's behalf, but only with the Defendant's permission.
It is the Defendant's responsibility to stay in contact with your bondsman and your attorney.
Defense attorneys, it is also your responsibility to stay in contact with your client.
If the Court does not receive the Electronic Reset by the above deadline, the Defendant must appear in person to sign a Physical Reset. If the Court does not receive an Electronic Reset or Physical Reset, a bond forfeiture/failure to appear warrant will be issued.
DEFENDANTS WITHOUT AN ATTORNEY
Defendants are required to appear in person on their scheduled court date
 CRIMINAL STATUS CASES
Status cases are held via zoom or in person. Both attorney and defendant are required to appear.
If the plea paperwork is not turned in on time, the case will be Reset to the next available plea setting.
If your plea is scheduled via Zoom, you will receive an email from the Court with the Zoom link to access the hearing. Attorneys have the option to appear via Zoom or in person for pleas.
Defendants are required to appear in person no later 2pm on the day of the plea to be fingerprinted.
CRIMINAL PLEAS
Plea paperwork must be completed electronically and submitted to the Court no later than 48 hours before the scheduled court date.
COURT COSTS RESETS
The Defendant is responsible for paying their balance in full by the date provided on their Court Costs Reset.
If the Defendant is unable to pay their balance in full, he/she is required to appear in person on their scheduled court date. If the Defendant does not contact the Court and does not appear in Court on their scheduled court date, a Failure to Appear Warrant will be issued.
JUVENILE CASES
Juvenile Status and Adjudication/Disposition Dockets are scheduled by County Court 3's Juvenile Probation Officer, Jina Carmona. Please contact her at Jina.Carmona@fortbendcountytx.gov
CIVIL:
The Civil Docket will be handled via Zoom. If there is a reason why a matter cannot be handled via Zoom, contact the Court Coordinator via email at TrayNeisha.Sanford@fortbendcountytx.gov
To request a hearing date, please email the Court Coordinator at TrayNeisha.Sanford@fortbendcountytx.gov
The Motion and Order must be e-filed before requesting a hearing date
PROBATE CASES
Uncontested Probate matters can be scheduled for a virtual hearing (ZOOM) by contacting the Probate Auditor at the email address listed below.
Probate Cases-Contact Probate Auditor, Benny Charles: Email- Benny.Charles@fortbendcountytx.gov
The Court requests the public's patience and understanding during this time. We are committed to following the guidelines established by the CDC and the Supreme Court of Texas.
If you have any questions or concerns, please contact the Court Coordinator, and please have patience as she works to answer your questions.
NOTICE OF ACCOMMODATIONS FOR AT-RISK INDIVIDUALS
Due to COVID-19 many individuals are considered "at-risk" members of the vulnerable population. These members include, but are not limited to, individuals who are over 65 and individuals with serious underlying health conditions, such as high blood pressure, chronic lung disease, obesity, asthma, and those whose immune systems are compromised such as by chemotherapy for cancer or other conditions. If you believe you are a member of this vulnerable population, please contact the court coordinator TrayNeisha Sanford via email at TrayNeisha.Sanford@fortbendcountytx.gov or call 281-341-4429 – *provide your full name, cause number and contact information* – to advise the court regarding your need for special accommodations and a specialized docket to ensure your continued safety.
Disclaimer:
Use this service at your own risk. Please be aware that some video conferencing software have a security risk and face issues with disclosure of private information.
Important Notice
Attorneys with cases set on the Dismissal for Want of Prosecution (DWOP) dockets in this Court need to appear for these dockets if you have already had at least one (1) Order to Retain granted in the past. If you are filing your first Motion to Retain, please make sure it is properly verified and filed within ten (10) days prior to the DWOP docket.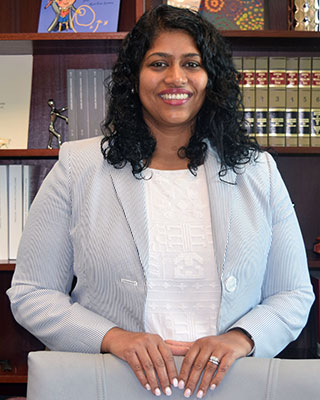 The Honorable Judge Juli A. Mathew was elected to County Court at Law 3, in 2018 after having been Associate Municipal Judge in Arcola, TX and a practicing attorney for 15 years with experience in mass tort, civil litigation, probate, and criminal matters in Fort Bend and surrounding counties including Harris, Montgomery, Galveston and Brazoria. Judge Mathew was voted the Administrative Judge for the County Courts by her peers and also heads the first Juvenile Intervention and Mental Health Court.
 
Judge Mathew, a Fort Bend resident of almost two decades, is a proud immigrant from Kerala, India, is bilingual in Malayalam and English, and is the first Asian American woman to be elected in Fort Bend County and the first Indian American Women elected to the bench in the United States.
Judge Mathew grew up in Philadelphia and attended Penn State University before attending Delaware Law School for her Juris Doctorate. A few of her academic achievements include:
Alpha Class member of the Asian American service sorority Alpha Kappa Delta Phi
Studied abroad at University of Leiden, The Netherlands about the Dutch Criminal Justice System
President, Student Government Association at Penn State Abington
Citation for Leadership from Pennsylvania House of Representatives
Environmental Law Clinic & Trial Advocacy Program at Delaware Law School
In addition to her service to the community through various capacities, Judge Mathew is a wife and mother of three beautiful daughters. She is committed to serving every Fort Bend resident with understanding, fairness, and justice.
Office Address
Fort Bend County Justice Center
1422 Eugene Heimann Circle, Courtroom 2D
Richmond, TX. 77469

Mailing Address
County Court at Law No.3
301 Jackson Street, Room 101
Richmond, TX. 77469

Telephone
281-341-4429
Hours
Monday - Friday
8:00 AM - Noon; 1:00 PM - 5:00 PM
NOTICE OF LANGUAGE | Important Notices
ASSISTANCE SERVICES
FORT BEND COUNTY COURTS AT LAW AND DISTRICT COURTS ARE COMMITTED TO PROVIDING MEANINGFUL ACCESS TO COURT SERVICES FOR LIMITED ENGLISH PROFICIENT (LEP) PERSONS. LANGUAGE ASSISTANCE SERVICES ARE AVAILABLE AT NO COST TO ANY PERSON ASSOCIATED WITH A COURT PROCEEDING WHO HAS DIFFICULTY COMMUNICATING IN THE ENGLISH LANGUAGE OR WHO NEEDS A DOCUMENT TRANSLATED INTO ENGLISH.
IF YOU NEED ASSISTANCE IN A LANGUAGE OTHER THAN ENGLISH, YOU MAY REQUEST LANGUAGE ASSISTANCE SERVICES FREE OF CHARGE. TO REQUEST INTERPERETATION OR TRANSLATION SERVICED FOR THE FORT BEND COUNTY COURTS, PLEASE VISIT THE
LANGUAGE ACCESS
WEBPAGE.