Honorable Juli Mathew, Judge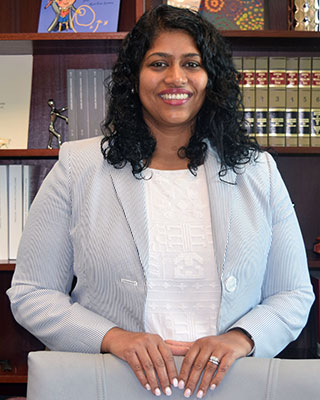 The Honorable Judge Juli A. Mathew was elected to County Court at Law 3, in 2018 after having been Associate Municipal Judge in Arcola, TX and a practicing attorney for 15 years with experience in mass tort, civil litigation, probate, and criminal matters in Fort Bend and surrounding counties including Harris, Montgomery, Galveston and Brazoria. Judge Mathew was voted the Administrative Judge for the County Courts by her peers and also heads the first Juvenile Intervention and Mental Health Court.
 
Judge Mathew, a Fort Bend resident of almost two decades, is a proud immigrant from Kerala, India, is bilingual in Malayalam and English, and is the first Asian American woman to be elected in Fort Bend County and the first Indian American Women elected to the bench in the United States.
Judge Mathew grew up in Philadelphia and attended Penn State University before attending Delaware Law School for her Juris Doctorate. A few of her academic achievements include:
Alpha Class member of the Asian American service sorority Alpha Kappa Delta Phi
Studied abroad at University of Leiden, The Netherlands about the Dutch Criminal Justice System
President, Student Government Association at Penn State Abington
Citation for Leadership from Pennsylvania House of Representatives
Environmental Law Clinic & Trial Advocacy Program at Delaware Law School
In addition to her service to the community through various capacities, Judge Mathew is a wife and mother of three beautiful daughters. She is committed to serving every Fort Bend resident with understanding, fairness, and justice.
Office Address
Fort Bend County Justice Center
1422 Eugene Heimann Circle, Courtroom 2D
Richmond, TX. 77469

Mailing Address
County Court at Law No.3
301 Jackson Street, Room 101
Richmond, TX. 77469

Telephone
281-341-4429
Hours
Monday - Friday
8:00 AM - Noon; 1:00 PM - 5:00 PM