Rabies and Disease Prevention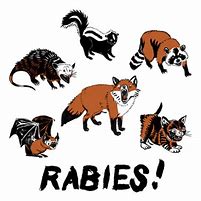 Rabies is a disease that affects the brain in mammals. It's usually passed from animal to animal but it can be passed between animals and humans. Rabies is caused by a virus that is transmitted through saliva. Rabies is fatal if not treated before onset.
Texas State Law requires all cats and dogs have current rabies vaccinations.
Top 5 animals that can carry rabies
Bats
Skunks
Coyotes
Foxes
Raccoons
Preventing Rabies
Vaccinate your dogs and cats
Restrain your pets; do not allow them to roam freely in public
Avoid contact with wild animals and unknown dogs and cats
Do not touch sick or injured animals
If your pet is bitten, scratched or in a fight with any animal listed above, contact us at 281-342-1512.
Animal bites and scratches
If you are bitten or scratched by any animal listed above:
Wash the wound well with lots of soap and water
Call your doctor right away
Contact us at 281-342-1512.
You may need to get the rabies vaccine or other shots.
Recognizing Rabies
First symptoms of rabies include
Change in personality, depression
Fever and loss of appetite
Advanced signs progress within days to nervous system abnormalities such as:
Abnormal behavior, aggression, and/or self-mutilation
Dropped jaw, lack of tongue coordination, difficulty swallowing, excessive salivation
Wobbly, weakness, paralysis, seizures
Bats
Bat season is March through November. Fort Bend County Animal Services reminds the public of ways to minimize the danger of exposure to rabid bats in the community.
As a general reminder, never handle a bat alive or dead with bare hands.
Canine Distemper
Canine distemper is a virus affecting unvaccinated dogs. It is most often found in southern states, like Texas. The virus can impact all systems in the body, but typically starts with upper respiratory signs. Signs of distemper could include: lack of interest in food, extreme lethargy, severe nasal discharge, severe coughing, muscle tremors or seizures, change in skin condition or inability to walk straight. Visit your vet immediately if you observe any of these symptoms in your dog.