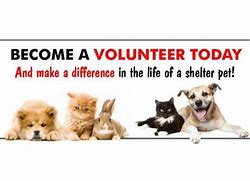 Become a volunteer

    Attend a Volunteer Open House.
    Commit the volunteering four hours per month.
    Have regular access to e-mail and have an e-mail address.
    16 and 17 year olds must have an adult's signature on volunteer forms.

Group Volunteer Opportunities

FBCAS has one time volunteer opportunities for community, school, church and other groups. Volunteer groups help with a variety of jobs including animal care and enrichment, dog walking, cat socialization, cleaning and organizing and special projects like videos, photography and shelter improvement projects. 

Community Service Restitution

FBCAS supports the Community Service Restitution (CSR) program for Fort Bend County.  This is an invaluable partnership for us to get much needed help in areas of the shelter where staff and volunteers need extra assistance. CSR volunteers will rarely work directly with the animals, but will support the shelter and the animals in our care by doing laundry, dishes, enrichment activities, sanitizing cages and other duties as they are needed. Physical requirements of assigned tasks involve bending, lifting, walking, carrying and using a force equal to 50 pounds with or without accommodation.