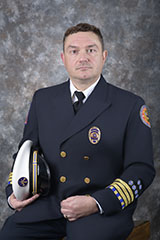 J. Albert
Deputy Chief, Administration
The patient account services division of Fort Bend County Emergency Medical Service handles all aspects of patient billing as it pertains to 911 emergency ambulance transport. Any and all billing questions, including but not limited to insurance, payment plans, collection notices and requests for billing records are handled by the division.
To speak with a patient account services representative, call 281-633-7064. For your convenience, you can submit your payment online, in person, or by mail to:
Fort Bend County EMS
5855 Sienna Springs Way
Missouri City, TX 77459
There are several ways to pay an EMS invoice(s).  Submit payments either in person, by mail, or use the convenient online payment feature. Be advised, when paying online, Official Payments (the firm handling payment transaction(s) for Fort Bend County) will add a 2.75% service fee to a one-time payment and will add a 2.75% service fee to any subsequent payment transactions using the online payment service. For example, when submitting a payment of $500.00, the transaction will reflect a total payment of $513.75 (the $500.00 payment and a $13.75 service fee).  Then, if submitting a subsequent $100.00 payment, at a later time, it will be treated as a new payment transaction and another 2.75% fee will be added to the total payment.
* Please note:  The service fee is a separate charge and DOES NOT apply to the invoice payment.
The Fort Bend County Fee Schedule lists all approved county fees.
Medical Records
 Patients may obtain their own medical run records by utilizing the following procedures:
The Authorization for Disclosure, Use or Receipt of Protected Health Information Form must be submitted, in writing, to patient account services via fax, e-mail, or USPS. The request should provide the patient's full name, date of birth, date(s) of service, and any other information which will aid in locating the document (or documents) requested. The completed request must be made by the patient and include a copy of a

valid state or federal ID

. Please include your contact information, including e-mail address, and your preferred method of delivery in your written request. There is a $5.00 delivery fee charged for mailing records to the requestor.
**In the case of a the requester must present a complete and valid compliant release or POA along with a copy of their along with the aforementioned documentation**

The fee for copies of your own medical records is $10.00 (unless they are needed for legal purposes). Cost of receiving the medical and/or billing records of another person is $0.50 per page, plus the cost of any related delivery fee(s).

Upon receipt of all necessary documentation, and request approval, you will be invoiced for your records. You must submit payment in full prior to the release of the records. The only accepted forms of payment are money orders or bank cheques/cashier's checks. Your records will be delivered to you in the manner you chose as soon as payment is received.
FBCEMS uses ChartSwap, a HIPAA compliant fulfillment platform, to securely transmit electronic medical and billing record requests from medical providers, law firms or other requesting parties not listed above. Requestors are required to register on the ChartSwap website in order to request medical and/or billing records, balance verifications, or fee reductions. Any questions, regarding ChartSwap registration may be addressed by calling them directly at 855-879-7927.
Patient Survey Form
Fort Bend County Emergency Medical Service strives to provide the finest in prehospital care available to those requesting our assistance. One very important measure of our performance is obtained from comments about the service received. If you or a member of your family recently required service provided by Fort Bend County Emergency Medical Service, we would appreciate learning more about your experience.  
Please consider completing a short 1 minute survey.  The confidential input you provide is very important and helps improve our service. Thank you.