You Dump It, You Drink It!
Dumping is Illegal and a Menace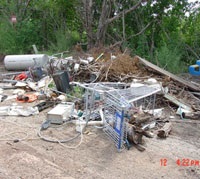 What is Illegal Dumping?
When it comes to environmental crimes, illegal dumping is when a person or company intentionally disposes or allows the disposal of solid waste at a site or location that is not permitted as a landfill. Illegal dumping much of the time is a crime of opportunity. It ranges anywhere from your throwing the proverbial cigarette butt out of the window, to throwing bags of household garbage in a county ditch, a person dumping a trailer load of junk from their weekend clean up or a construction hauler dumping his truck load of debris onto private property. The bottom line is solid waste must be taken to a State permitted landfill.
If you hire someone to haul away your trash or materials and they dump them illegally, you may be held liable and charges filed against you. To reduce illegal dumping, follow these guidelines:
Only do business with legitimate companies or individuals who are properly permitted and licensed to handle materials. Many for-hire companies which advertise waste or junk hauling services may not be properly permitted.
Ask the company where it intends to recycle or dispose of the materials.
Why is Illegal Dumping a Problem?
Illegal dumping is a major problem that raises significant concerns with regards to safety, property values, and quality of life in our communities. In addition, it is a major economic burden on local governments, which is typically responsible for cleaning up dump sites.
Illegal dumpsites can attract disease carrying pests, are dangerous to children, can pollute our river and streams, and may contaminate water wells. And if they're not cleaned-up quickly, illegal dumpsites often invite more illegal dumping.
In addition to public health, safety and environmental costs, illegal dumping has financial costs to you the tax payer.
Why Do People Dump?
They do not want to spend the time or money to take their waste to a landfill
They feel it is all right to litter or dump
They don't care about the place
They dump in a location where someone else has dumped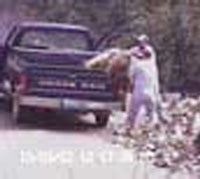 What If You See Someone Dumping?
Watch carefully and Report the following:
What is the license plate number of illegal dumpers vehicle?
What kind or type of vehicle is the illegal dumper driving?
What color is the illegal dumpers vehicle?
What does the illegal dumper (individuals) look like?
Where did they dump?
What did they dump?
Take a photo or video of what you observe.
Do not approach the dumper. Contact a local law enforcement agency immediately.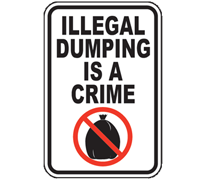 How To Report Illegal Dumping
To report Illegal Dumping In-Fort Bend County, in progress, call 281-341-4665 or 281-342-7469
If you are unsure whom to contact, call the Texas Environmental Complaint Hotline, 888-7773186. Texas residents may use this line to report environmental violations. They will be routed to the closest TCEQ regional office. Callers after business hours may leave a recorded message.
To report a spill 24-hours a day, call TCEQ Spill Reporting, 800-832-8224
How Can You Help Make Your Environment Cleaner and Safer?
Set an example by not littering or dumping
Take your used motor oils, tires and batteries to a local retailer or a recycle center
Use an authorized commercial trash service
Make sure that your trash is bagged, your trash cans have lids and are securely attached
Do not burn old tires, treated lumber, wiring insulation plastics, non-wood construction debris,
furniture, carpet, oils, oil filters, asphalt materials, chemical wastes, or your household waste.
Do not discharge or pump your sewage and other waste lines to a ditch, stream, pond, or creek.
Get involved in your community or neighborhood:
http://www.tceq.texas.gov/compliance/complaints
https://www.tceq.texas.gov/p2/recycle/recycling.html
http://dontmesswithtexas.org/report-a-litterer
State Approved Local Landfills
BFI- Blue Ridge Landfill
2200 FM 521, Fresno, TX
281-835-6142
Fort Bend Regional Landfill
FM 1994 @ FM 361 outside of Fairchilds
979-793-4430
Sprint Fort Bend Landfill
16007 West Belfort
Richmond, TX 77469
281- 277-3277
Helpful Links
For More Information
For confidential assistance on environmental compliance for small businesses and local governments: TCEQ Small Business and Local Government Hotline, 800-447-2827
To report an environmental complaint or violation: TCEQ Environmental Violations Hotline, 888-777-3186