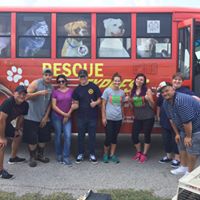 In addition to the volunteer, adoption and foster programs, FBCAS has developed a strong rescue partner program by working with more than 160 rescue partners over the years. These organizations network with the shelter on a regular basis and work diligently to help our pets find the perfect new homes they deserve. The participation of our partners is vital to Fort Bend County Animal Services live outcome goals.
How to Become a Partner
Fort Bend County Animal Services works hard to grow the rescue program by adding new rescue groups to the list of approved partners.
A 501(c)(3) designation is a requirement to become an FBCAS rescue partner.  We do not require a minimum number of transfers from approved rescue partners, nor do we charge a fee for transfers.
For more information about becoming a rescue partner, please contact us at 281-342-1512.