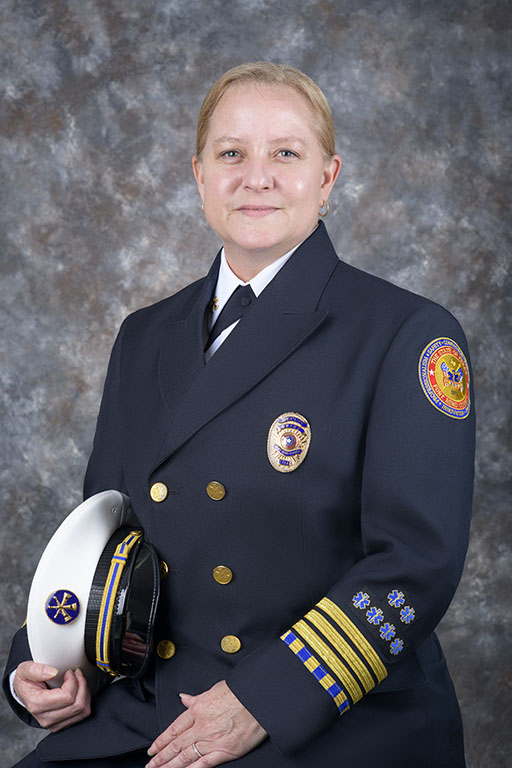 R. Graeber
Deputy Chief, Finance and Logistics
Budget – Utilizing conservative finance philosophies, the Finance Section works with the Executive Section to build and administer the annual budget.
Procurement and Contracts – manages the Department's purchases for supplies and equipment under the guidelines of the County Purchasing Agent. Coordinates contract management for services and equipment with the County Attorney's Office.
Accounts Payable – processes invoices for payment under the direction of the County Auditor's Office.
 
Accounts Receivable – processes payments received for special events, educational classes, refunds, and donations to our Paramedic Fund.
Information Technology – manages the purchase and maintenance of the Department's Information Technology and Communications equipment.
Fleet Management – manages the maintenance and repair of the Department's fleet of 24 Ambulances and 22 Support Vehicles utilizing the County's Vehicle Maintenance Department as well as County approved vendors.
Inventory Control – maintains supply and equipment for the Department Fleet as well as EMS Facilities using Operative IQ Operations Management Software.
Facilities – coordinates repair and maintenance of EMS facilities with the County's Facilities Management Department and with our partner Fire Departments that house EMS personnel and equipment.
Security – manages the Department's Employee ID and Access Card system. Maintains the Department's camera systems.
Safety and Loss Prevention – personal injury and property damage incidents are reviewed and measured to mitigate the risks to staff and County property.
Records Retention – Serves as the EMS Department's Liaison to the County's Records Management Department following the Texas State Library & Archives Commission's regulatory guidelines for retention of all documents, electronic and paper.