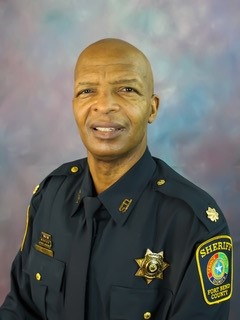 Major Jacob F. Webb, Jr.
Major Jacob F. Webb, Jr. commands the Detention Bureau. In this capacity his duties include the coordination and supervision of three captains who manage the following Divisions: Director of Detention Division Operations, Court Security Division. and the Night Detention Commander.
Prior to his appointment to the Fort Bend County Sheriff's Office (FBCSO), Webb retired from the Houston Police Department (HPD), where he served the City of Houston for over three decades. During his tenure with HPD, he was assigned to the Jail, Patrol, Community Services (DARE), Special Operations, Bike Patrol, and Criminal Investigations where he was a member of the U.S. Secret Service Task Force (HAFTF).
Major Webb earned a Bachelor of Science Degree in Criminal Justice from the University of Houston-Downtown, and a Masters Degree in Sociology/Criminology from the University of Houston-Clearlake. He also served his country and is a U.S. Army veteran. He brings many distinguished attributes to the Sheriff's Office, to include being a state-certified mediator, receiving licensure as a jail administrator, and qualifying as a Texas Commission on Law Enforcement (TCOLE) instructor. He also attained a Master Peace Officer certification.
Major Webb is a native Houstonian and participates in civic events including food for the homeless and assisting with scholarships for high school seniors in the Houston and Fort Bend County areas. He was president of the Afro American Police Officer's League where he negotiated law enforcement employee rights and improvement of discipline and hiring practices.
Major Webb's hobbies include reading and traveling.
Major Jacob F. Webb, Jr. may be reached by e-mail at [email protected]

Teresa Culverhouse is the administrative assistant to Major Webb. She may be reached at 281-341-4732 or by e-mail at [email protected].
Dial 9-1-1 for emergencies only
Non-emergencies 281-341-4665
To report information on a current investigation call 281-341-4686.To report an anonymous tip call 281-341-TIPS (8477).