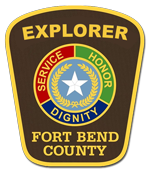 Juvenile Law Awareness Educational Program
The Juvenile Outreach Officers will provide all Fort Bend County School Districts with the "Before It's Too Late", "Now That You Are 10", "Countdown to Your Future," and "Legal Terms That You Should Know" programs. The programs are sponsored by the Fort Bend Partnerships for Youth. The purpose, through teaching, is to educate and inform students, teachers, and administrators in elementary, middle, and high school grade levels about juvenile laws (10-16 years of age) in the State of Texas. The Juvenile Outreach Officers will also assist in the training of selected High School "PALS" who will present "Before It's Too Late" to 6th grade students as mentors.
LCISD/Stafford MSD Home Contacts/Juvenile Probation Curfew Checks
The Juvenile Officers will assist officials from the Lamar CISD and Stafford MSD in locating children that are truant. During this phase, the parents of these children are contacted to make them aware of the truancy situation and, if possible, are offered suggestions on how to correct this behavior before legal action is taken. The Officers will pass on any information gained from the families to the LCISD and SMSD officials to use at their discretion. The Juvenile Outreach Officers will also assist the Juvenile Probation Department with school attendance/drug screening and in conducting unannounced curfew checks of the probationers at their residence. These checks will be conducted on a regular basis at the direction of the Fort Bend County Juvenile Probation Department.
Directives to Apprehend/ Juvenile L.A.W. Program/ Daily Patrol Procedures
The Juvenile Outreach Officers, coordinating with Juvenile Probation Officers, will assist the Fort Bend County Juvenile Probation Department in the location and apprehension of juveniles who have a Directive to Apprehend. The Juvenile Outreach Officers will also make a monthly presentation at the Legal Awareness Workshop (L.A.W. program) conducted by the Juvenile Probation Department to juveniles and their parents. Finally, any time that the Juvenile Outreach Officers observe what appears to be possible truancy violations, the officers will stop juveniles, investigate their status, and take appropriate action by returning the juvenile(s) to school officials or using their discretion as to the disposition of the juvenile(s) in question.
Download Press Release [PDF]
Download Press Release [PDF]
Tuesday, December 06, 2022
Dec. 06, 2022, 10:00 AM - 4:00 PM
Dial 9-1-1 for emergencies only
Non-emergencies 281-341-4665
To report a crime tip 281-341-4686 281-342-TIPS(8477)