Eric Fagan, Sheriff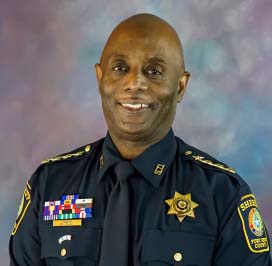 Sheriff Eric Fagan, a 30-year Fort Bend County resident, was elected on November 3, 2020 as the Sheriff of Fort Bend County. On January 1, 2021, Fagan became the 45th Sheriff of Fort Bend County, Texas and the first African American to serve in the position since Reconstruction.
Sheriff Fagan earned a Bachelor of Science degree in Criminal Justice, where he graduated number one in his class. He also earned a Master of Science degree in Juvenile Forensic Psychology, both degrees from Prairie View A&M University. During Sheriff Fagan's stellar 31-year career with the Houston Police Department, he was a three-time winner of the prestigious Officer of the Year Award. Sheriff Fagan served as President of the African American Police Officer's League where he was named President Emeritus because of his leadership and ability to bridge the gap between law enforcement and the citizens they serve.
Among the many divisions Sheriff Fagan was assigned to during his career was the Internal Affairs Division in the Alternative Dispute Resolution section where he served as a mediator/facilitator and he personally mediated over 200 cases with a 100 percent rate of agreement between the parties.
Sheriff Fagan served on Mayor Sylvester Turner's protection detail giving Fagan the opportunity to work with world leaders, government officials from different municipalities and plan for catastrophic events that occurred in the City of Houston. Sheriff Fagan is certified by The Texas Department of Public Safety in Dignitary Protection. This training taught him how to protect domestic and foreign dignitaries and how to be on alert for possible terroristic and domestic threats. During Super Bowl LI he worked with the NFL security team, the FBI, Homeland Security, METRO, Harris County Sheriff's Office and other law enforcement municipalities around the City of Houston in planning for and protecting over one million citizens and visitors who attended the festivities.
Sheriff Fagan is honored to serve all the citizens of Fort Bend County.
Karolyn Drisdale is the Executive Command Assistant to Sheriff Fagan. She may be reached by email at Karolyn.Drisdale@fortbendcountytx.gov.
Dial 9-1-1 for emergencies only
Non-emergencies 281-341-4665
To report a crime tip 281-341-4686 281-342-TIPS(8477)