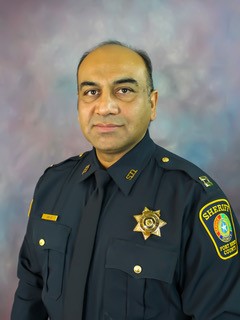 Captain Nasir Abbasi
Captain Nasir Abbasi is the commander of the Regulatory Affairs Division, which also involves management of the Records, Alarm Detail and Racial Profiling. He was born in Lahore, Pakistan and immigrated to the United States at the age of 24. Captain Abbasi served as an elected Student Governor and Student Senator, and president of different student clubs in the City University of New York and obtained his Associates Degree in Science. Captain Abbasi was known as an ambassador of love and respect among students of various ethnic groups.
Captain Abbasi moved to Houston Texas in 2008. In 2009, Captain Abbasi joined the Harris County Precinct 6 Constables Office at the age of 42 as a patrol deputy in the Gulf Gate area. He then joined the Harris County Sheriff's Office in 2011. This new job also brought forth a large number of heavy duties and responsibilities for him as he represented the South Asian Communities in the Greater Houston Metropolitan Area. In this capacity, he served as a bridge among the Indian Subcontinent, Arab, and Iranian communities.  In 2019, Captain Abbasi was the very first South Asian in Harris County Sheriff's Office to be promoted to the rank of Sergeant where he supervised the Joint Processing Center, Community Engagement Division and Patrol.
After the tragedy that took place in a mosque in New Zealand, Captain Abbasi garnered a pivotal role in modern policing. He pledged to discourage and prevent any potential terrorist attack, and through this, he was able to educate the citizens on how to best handle Active Shooters. This positive role led him to becoming a certified Crime Prevention Specialist.
Captain Abbasi holds an Advance Peace Officer Certificate. He believes in a Community-Oriented Policing philosophy and is committed to building long-lasting relationships between the citizens of Fort Bend County and law enforcement. He has been awarded several community-service awards for his outstanding outreach efforts in various local and out of state communities nationwide. He is especially looking forward to forging stronger relationships between the FBSCO and the vast cultures the Sheriff's Office serves.
Captain Abbasi may be reached by email at Nasir.Abbasi@fbctx.gov.
Johanna Buechmann, Records Supervisor, Records Division, may be reached at 281-341-4621 or by email at Johanna.Buechmann@fbctx.gov or Records at fbcsorecords@fbctx.gov.
Terriann Horton, Alarm Detail Coordinator, Alarm Detail & Game Room Administration Unit, may be reached at 281-341-4610, or by email at SOAlarmDetail@fbctx.gov.
Dial 9-1-1 for emergencies only
Non-emergencies 281-341-4665
To report a crime tip 281-341-4686 281-342-TIPS(8477)