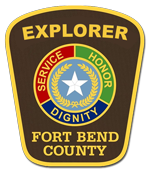 Mission
The Fort Bend County Sheriff's Office Youth Explorers exists to provide area youth with a better understanding of local government, its function and responsibilities, to promote respect for the law; to provide each Explorer with the opportunity to observe the operation of the Sheriff's Office in the discharge of its responsibility to protect and serve the citizens of Fort Bend County; and to provide information and exploration of the law enforcement field.
Purpose
The purpose of Law Enforcement Exploring is to provide young men and women who may be interested in a career in law enforcement, with a comprehensive program of training, competitions, service, and practical exercise.
Requirements
Age
Must be fourteen (14) years old and have completed the 8th grade.
No older than (18) years old and must still be in high school.
Education
Currently enrolled in an accredited high school
Residence
New members must meet one of these initial residency requirements.
Must be a resident of Fort Bend County.
A student in the LCISD, FBISD, Stafford MSD, Needville ISD, or other approved districts.
Member of the immediate family of an employee of the FBCSO or Fort Bend County.
Private or Home school students may participate. Registration and/or attendance documentation must be shown.
Background Check
Each applicant is subject to a background check.
NO felony convictions.
NO offences higher than a Class C Misdemeanor.
NO DWI or DUID convictions.
NO drug related offences.
NO crimes of moral turpitude.
Any other offense committed by applicant will be reviewed by the Post Lead Advisor, Committee, and Committee Chair for recommendation for approval or disapproval for final consideration.
Cost
Contact
Deputy Brandon Breaux, PostLead Advisor
Telephone: 281-238-1531
Email: Brandon.Breaux@fortbendcountytx.gov
Dial 9-1-1 for emergencies only
Non-emergencies 281-341-4665
To report a crime tip 281-341-4686 281-342-TIPS(8477)